50 Largest Missions and Bible Translation Organizations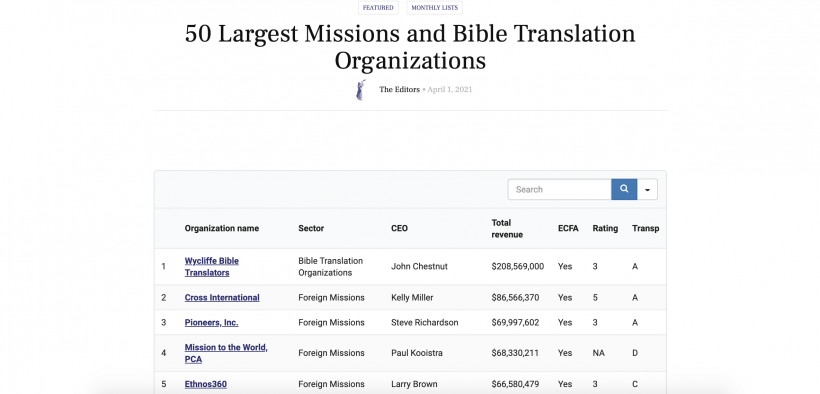 Below is a list of the largest foreign missions and Bible translation organizations in the country.
The MinistryWatch database has a number of categories that include foreign missions organizations.  We have therefore included Bible translation organizations, missionary organizations, and some evangelism and support organizations.  Unlike most of our other lists, we have included a column for the segment so you can make an apples-to-apples comparsion of these various ministries.
Also, MinistryWatch has identified a growing trend among Christian ministries to identify as churches and thereby withhold their Form 990s.  Unfortunately, some Bible translation organizations (including Wycliffe Associates) is among them.  Also, the Bible translation industry is notoriously complicated in organizational structure, with some organizations existing mostly to raise money and then grant that money to other organizations.  Further, many missionary and other organizations have as their model the practice of "support-raising."  Individual missionaries, or missionary couples, raise money from their own support network.  Many donors support the person they know and know very little about the organizations who typically keep as much of 10 percent of the support missionaries raise.
These are not best practices, and we hope increased transparency provided by MinistryWatch will lead to reform in Bible translation and missions organizations.
A word about timing: This information comes from the most recent Form 990 available, or — in a few cases — from the audited financial statements.  For most ministries on this list, the most recent year available was 2019. For a few ministries, the most recent year is 2018 or older.  To read the complete profile of the ministries, click on the name of the ministry.  That link will take you to the ministry's profile in the MinistryWatch database.
| | Organization name | Sector | CEO | Total revenue | ECFA | Rating | Transp |
| --- | --- | --- | --- | --- | --- | --- | --- |
| 1 | Wycliffe Bible Translators | Bible Translation Organizations | John Chestnut | $208,569,000 | Yes | 3 | A |
| 2 | Cross International | Foreign Missions | Kelly Miller | $86,566,370 | Yes | 5 | A |
| 3 | Pioneers, Inc. | Foreign Missions | Steve Richardson | $69,997,602 | Yes | 3 | A |
| 4 | Mission to the World, PCA | Foreign Missions | Paul Kooistra | $68,330,211 | Yes | NA | D |
| 5 | Ethnos360 | Foreign Missions | Larry Brown | $66,580,479 | Yes | 3 | C |
| 6 | American Bible Society | Bible Translation Organizations | Robert L. Briggs | $65,589,871 | Yes | 2 | A |
| 7 | The Seed Company | Bible Translation Organizations | Larry Jones | $56,812,441 | Yes | 3 | A |
| 8 | SIM USA | Foreign Missions | Randy Fairman | $51,241,973 | Yes | 3 | C |
| 9 | United Bible Societies | Bible Translation Organizations | Robert Cunville | $50,017,966 | No | 5 | D |
| 10 | Wycliffe Associates | Bible Translation Organizations | Tim Neu | $49,134,756 | No | 3 | D |
| 11 | Mission Aviation Fellowship | Evangelism Support | David Holsten | $48,856,443 | Yes | 1 | C |
| 12 | SIL International | Foreign Missions | Michel Kenmogne | $42,056,536 | Yes | 2 | A |
| 13 | TEAM (The Evangelical Alliance Mission) | Foreign Missions | Scott Henson, International Director | $39,952,000 | Yes | 2 | C |
| 14 | TWR (Trans World Radio) | Foreign Missions | Lauren Libby | $39,588,106 | Yes | 2 | C |
| 15 | Reliant Mission | Foreign Missions | Thomas Mauriello | $37,572,318 | Yes | 3 | C |
| 16 | Reach Beyond | Foreign Missions | David Johnson | $36,171,859 | Yes | NA | C |
| 17 | Frontiers | Foreign Missions | Bob Peckham | $35,716,018 | Yes | 3 | A |
| 18 | WorldVenture | Foreign Missions | Jeff Denlinger | $34,655,402 | Yes | 4 | C |
| 19 | International Cooperating Ministries | Foreign Missions | Janice Rosser Allen | $33,941,407 | Yes | 3 | A |
| 20 | World Help | Foreign Missions | Vernon Brewer | $32,940,723 | Yes | 4 | A |
| 21 | Jewish Voice Ministries International | Foreign Missions | Jonathan Bernis | $31,171,638 | Yes | 1 | A |
| 22 | Operation Mobilization | Evangelism Support | Andrew Scott | $29,372,403 | Yes | 3 | C |
| 23 | Africa Inland Mission International, Inc. | Foreign Missions | Wade Ewing | $29,086,667 | Yes | 4 | C |
| 24 | One Mission Society, Inc. | Foreign Missions | David C. Long | $27,036,571 | Yes | 1 | C |
| 25 | Open Doors with Brother Andrew, Inc. | Bible Translation Organizations | David Curry | $26,585,555 | Yes | 2 | A |
| 26 | Avant Ministries / Gospel Missionary Union | Foreign Missions | Scott Holbrook | $24,966,511 | Yes | 2 | C |
| 27 | World Gospel Mission | Foreign Missions | Hubert P. Harriman | $23,658,037 | Yes | 2 | C |
| 28 | Faith Comes By Hearing/ Hosanna Ministries | Bible Translation Organizations | Gerald Jackson | $23,647,725 | No | 3 | C |
| 29 | Christian Missionary Fellowship | Foreign Missions | Douglas Priest, Jr. | $21,632,350 | Yes | 4 | C |
| 30 | Greater Europe Mission | Foreign Missions | Jonathan Burns | $21,374,459 | Yes | 2 | C |
| 31 | United World Mission | Foreign Missions | John Bernard | $21,080,155 | Yes | 2 | C |
| 32 | Bible League International | Bible Translation Organizations | Jos Snoep | $20,466,167 | Yes | 1 | C |
| 33 | Partners International | Foreign Missions | Larry D. Andrews | $20,451,935 | Yes | 4 | C |
| 34 | East-West Ministries International | Foreign Missions | Kurt Nelson | $19,204,558 | Yes | 3 | A |
| 35 | Commission to Every Nation | Evangelism Support | Richard Malm | $19,188,321 | Yes | 5 | C |
| 36 | Serge (formerly World Harvest Mission) | Foreign Missions | Bob Osborne | $18,841,933 | Yes | 4 | A |
| 37 | SEND International | Foreign Missions | Warren Janzen | $18,287,946 | Yes | | C |
| 38 | Pioneer Bible Translators | Bible Translation Organizations | Gregory Pruett | $17,361,835 | Yes | 3 | A |
| 39 | Christar | Foreign Missions | Stephen Coffey | $15,812,333 | Yes | 2 | A |
| 40 | Biblica | Bible Translation Organizations | Geof Morin | $15,775,000 | Yes | 1 | A |
| 41 | Global Outreach International | Foreign Missions | John Darnell | $14,981,408 | Yes | 4 | A |
| 42 | Baptist Medical & Dental Mission International | Foreign Missions | Richard B. Stillwell | $14,591,054 | Yes | 5 | A |
| 43 | Kids Alive International | Foreign Missions | Corbey Dukes | $13,746,352 | Yes | 1 | A |
| 44 | E3 Partners Ministry | Foreign Missions | Curtis Hail | $13,536,033 | Yes | 3 | A |
| 45 | Biblical Ministries Worldwide | Foreign Missions | Chris Bauer | $13,429,176 | No | 4 | D |
| 46 | JAARS, Inc. | Evangelism Support | Woody McLendon | $13,359,980 | Yes | 3 | A |
| 47 | OC International, Inc. | Foreign Missions | Greg Gripentrog | $12,720,607 | Yes | 4 | C |
| 48 | Far East Broadcasting Company, Inc. | Foreign Missions | Edward Cannon | $11,879,557 | Yes | 2 | A |
| 49 | Iris Global | Foreign Missions | William Hart | $11,772,729 | Yes | 5 | A |
| 50 | Africa New Life Ministries International | Foreign Missions | Charles Mugisha | $11,119,550 | Yes | 4 | A |
| 51 | Back2Back Ministries | Foreign Missions | Todd and Beth Guckenberger | $11,090,687 | Yes | 4 | A |