Weekly Review

Mass Gathering Rulings Go Against Churches, Illinois To Allow "Small, Safe" Services, ECFA Adds New Members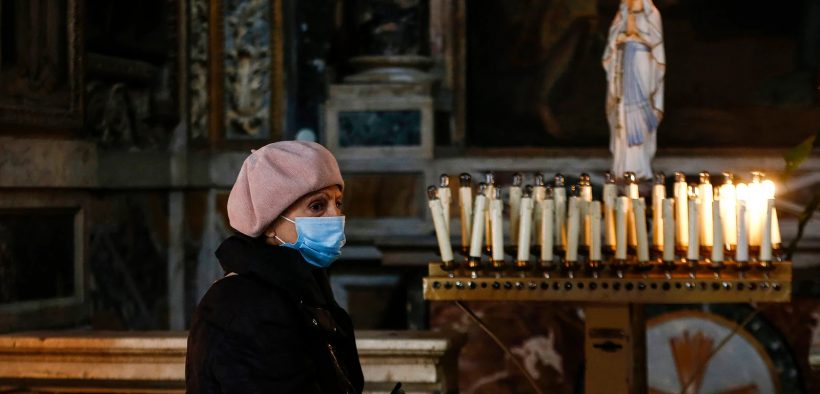 Judge Rules Against Church.  California Gov. Gavin Newsom had the right to ban church assemblies in the interest of public health during the coronavirus outbreak, a federal judge ruled Tuesday.  Newsom's stay-at-home order did not violate the constitutional rights to free assembly and religion when the Cross Culture Christian Center in Lodi was ordered to cease holding services, Judge John Mendez ruled in Sacramento.  Pastor Jonathan Duncan had continued to assemble his congregation after the governor banned public gatherings in March despite warnings it was in violation of state and local orders. The church of fewer than 50 members said it was obeying federal guidelines to prevent spread of the virus.
Illinois To Allow Worship Services.  Illinois will allow small, safe worship services during the coronavirus pandemic, according to a modified extension of Gov. J.B. Pritzker's stay-at-home order.  A small evangelical church in northern Illinois, which filed a federal lawsuit, is taking credit for the change that permits people "to engage in the free exercise of religion."  Nonetheless, "liberty rallies" seeking even fewer restrictions were held Friday at the Capitol in Springfield and the James R. Thompson Center in Chicago where Pritzker has an office.  "When do we open up?" said former Lake County Sheriff Mark Curran, the Republican candidate for U.S. Senate, who was among more than 100 protesters in Chicago. "We need a rational conversation about that."
Kentucky Stay-At-Home Order Upheld.  A federal appeals court on Saturday declined to block the Kentucky governor's temporary ban on mass gatherings from applying to in-person religious services.  The three-judge panel did clear the way for Maryville Baptist Church to hold drive-in worship services while adhering to public health requirements. That's an alternative that Democratic Gov. Andy Beshear has strongly encouraged throughout the coronavirus pandemic.  But the panel stopped short of applying its order to in-person worship services.  The ruling came soon after the church asked the 6th U.S. Circuit Court of Appeals for an emergency order stopping Beshear's mass gathering ban from being enforced against religious services.
On Today's Podcast.  On today's MinistryWatch Podcast:  Samaritan's Purse closes its hospital in Central Park as the COVID Crisis abates there.  Some churches are re-opening, while others are making plans.  And the "new normal" could include a new financial environment:  Habitat for Humanity joins the ministries who have laid off staff, and the largest Christian media company, Salem, gets downgraded by Moody's.  Plus, Cedarville University's president has been placed on administrative leave for his handling of a sex abuser at his college.  Also on today's program:  a new on-line database tracks sex abusers in — or formerly associated with — the Southern Baptist Convention.  You can hear the podcast on iTunes, Spotify, Stitcher, and other podcast apps, or you can simply click here. 
MinistryWatch News.  The new, re-booted MinistryWatch website just passed its six-month anniversary.  We've logged more than a half-million page views in the past six months.  More than 100,000 people now get our daily emails. 
ECFA Changes.  The following organizations have had membership status changes in the Evangelical Council for Financial Accountability.
ADDITIONS:  For His Glory Evangelistic Ministries (Wheaton, Ill), T-Net International (Aurora, Colo.), Faith Foundation of Central Florida (Orlando, Fla.), Kingdom Advisors (Atlanta, Ga.), The Micah Project (Houston, Tex.), Love and Truth Network (Glendale, Ariz.), Catalyst Ministries (Bloomington, Ill.), Village Schools of the Bible (Minnetonka, Minn.), Sar Shalom Israel (Ovilla, Tex.), LeaderSource SGA (Elkhart, Ind.), Oakwood Baptist Church (New Braunfels, Tex.), Real Church (Largo, Fla.)  REMOVALS:  None.
MinistryWatch Rating Changes.  The following ministries have their profiles updated with the most recent year's financial data.  The Financial Efficiency rating of each ministry is in parenthesis.  If this rating represents a change from the previous year, that change is noted:  Mentor Kids USA (Down from 3 Stars to 2 Stars, Transparency Grade:  D), Military Community Youth Ministries (2 Stars, Transparency Grade:  C), Missionary Tech Team (2 Stars, Transparency Grade:  D), Montrose Broadcasting Corporation (1 Star, Transparency Grade:  A), MOPS International (2 Stars, Transparency Grade:  A), Narramore Christian Foundation (up from 1 Star to 2 Stars, Transparency Grade:  A), Our Daily Bread (5 Stars, Transparency Grade:  A), Family Talk (Down from 3 Stars to 2 Stars, Transparency Grade: