Weekly Review

Giving Tuesday Breaks Records, MinistryWatch Database Passes 700 Ministries in Database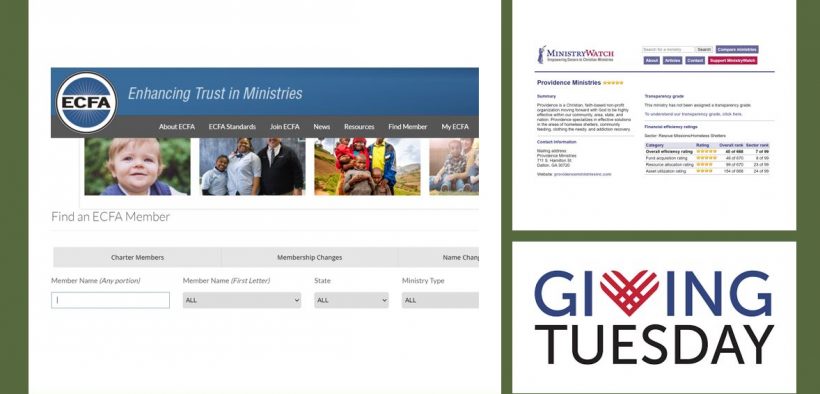 Giving Tuesday Breaks Records. More than $2.47 billion was raised on #GivingTuesday, a 25 percent increase from the $1.97 billion both online and offline in 2019, according to preliminary estimates from the GivingTuesday Data Commons and The Non-Profit Times. An estimated 34.8 million people participated in #GivingTuesday this year, which would be a 29 percent increase compared to 2019. Twelve countries participated as official national GivingTuesday movements for the first time on GivingTuesday 2020: Chile, Ghana, Guam, Ireland, Lebanon, Nigeria, Paraguay, Philippines, Senegal, Sierra Leone, South Korea, and Turkey.
On Today's MinistryWatch Podcast.  Each week, MinistryWatch brings you news about Christian ministries, as well as the latest in charity and philanthropy, news that we examine from a Christian worldview perspective.  Our goal is to help us become better stewards of the resources God has entrusted to us.  On today's program, a The United Methodist Church, which has been facing a split for years, finally cracks.  We continue our Shining Light series with a story about a program that helps at-risk boys become responsible men.  And the Supreme Court gives Religious Liberty a boost.  We begin today with the story of a con man who has defrauded investors out of $35-million by targeting the members of a church in California.  You can hear the podcast on iTunes, Spotify, Stitcher, and other podcast apps, or you can simply click here.
MinistryWatch Extra with Michael Reneau.  Michael is the Editor of WORLD Magazine.  He came to WORLD after a successful tenure as an award-winning editor at The Greeneville Sun, a daily newspaper serving East Tennessee.  To find out more about WORLD Magazine and the stories we discuss on this week's podcast, go to the World News Group website:  www.wng.org
You can hear that conversation here.
Access to MinistryWatch content is free.  However, we hope you will support our work with your prayers and financial gifts.  To make a donation, click here.
ECFA Changes.  The following organizations have had membership status changes in the Evangelical Council for Financial Accountability.  ADDITIONS: Apartment Life (Euless, Tex.), A Center for Hope Pregnancy Care Center (Logansville, Ga.), Alaska Village Missions (Homer, Alaska), Cross-Genereation (Edina, Minn.), Ministries Essentials International (Wheaton, Ill.), Fostering Family (Houston, Tex.)  REMOVALS:  NONE
MinistryWatch Database Changes.  MinistryWatch now has more than 700 ministries in its database.  We have been growing steadily for the past year, and we passed the 700 milestone in late November.  These ministries represent more than $29-billion in total revenue, most of that donor revenue from evangelicals. The following ministries have their profiles updated with the most recent year's financial data.  The Financial Efficiency rating of each ministry is in parenthesis. If this rating represents a change from the previous year, that change is noted: Christians in Action, Inc.  (3 Stars, Transparency Grade: C), CSI Ministries, Inc. (3 Stars, Transparency Grade: A), India Gospel Outreach (Down from 2 to 1 Star, Transparency Grade: A), Joni and Friends / Joni Eareckson Tada (Up from 2 to 3 Stars, Transparency Grade: A), Luis Palau Evangelistic Association (4 Stars, Transparency Grade: A), Mars Hill Productions, Inc.  (1 Star, Transparency Grade: A), World Mission Prayer League (Down from 4 to 3 Stars, Transparency Grade: C)  : Christian Legal Society / CLS / Samuel Casey (3 Stars, Transparency Grade: A), endPoverty.org / fka Enterprise Development Intl (3 Stars, Transparency Grade: C), Jewish Voice Ministries International (1 Star, Transparency Grade: A), Kids Alive Intl, Inc. (Down from 3 to 1 Star, Transparency Grade: ), Miracle Hill Ministries (1 Star, Transparency Grade: A), Opportunity Intl (Down from 2 to 1 Star, Transparency Grade: C)  The following ministries have been added to the MinistryWatch database with the most recent year's financial data: Valley Rescue Mission (3 Stars, Transparency Grade:  C), Providence Ministries (5 Stars, Transparency Grade:  C)