Weekly Review

Survey Says Churches Should Follow COVID Restrictions, Child Evangelism Fellowship & Guido Evangelistic Association See Ratings Drop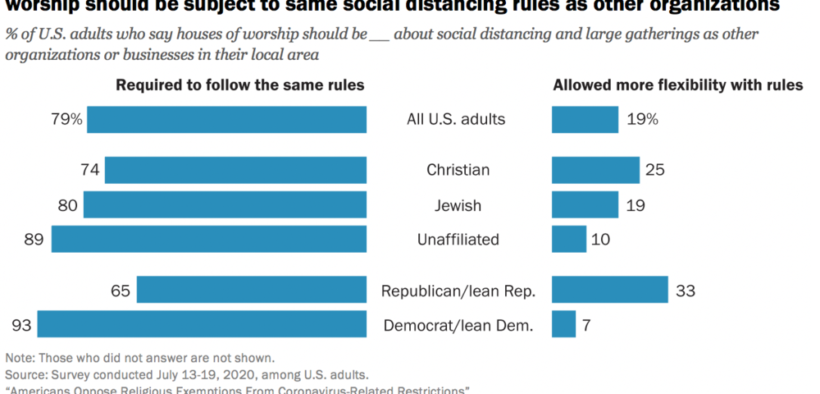 Americans Say Churches Should Follow COVID Restrictions. A new survey by Pew Research says that Americans overwhelmingly believe "houses of worship should be required to follow the same rules about social distancing and large gatherings as other organizations or businesses in their local area."  As states reopen after COVID-19 lockdowns, many have placed restrictions on the practices of restaurants, entertainment venues and other businesses to reduce the spread of the virus: these include social distancing, mandatory mask wearing and limited capacity.  In light of these lockdown precautions, 79 percent of Americans surveyed in July say houses of worship should be required to follow the same rules. Only 19 percent said they should be allowed more flexibility as opposed to bars, restaurants and other businesses.
On Today's Podcast.  Each week, Natasha Smith and I bring you news about Christian ministries, as well as the latest in charity and philanthropy, all designed to help us become better stewards of the resources God has entrusted to us.  On today's program, trouble at the Bible translation organization Wycliffe Associates continues.  We'll have an update.  Also on today's program, the latest in our Generous Living series.  Most of our stories focus on people giving away money, but in today's story we feature a woman who literally gave away a part of herself.  But we begin today with the latest chapter in the ongoing saga of Jerry Falwell Jr. and Liberty University.  You can hear the podcast on iTunes, Spotify, Stitcher, and other podcast apps, or you can simply click here.
Check Out MinistryWatch Extra.  A quick reminder that starting next week, we are going to be posting a second podcast episode each week.  Natasha Smith and I will continue our weekly roundup of the week's MinistryWatch news, posted each Friday.  The extra episode will be an interview with a writer or leader of a ministry we have a reporting partnership with.  My first guest will be Paul Glader, who is the editor of Religion Unplugged, the head of the journalism program at The King's College in New York City, and a long-time reporter for the Wall Street Journal.
ECFA Changes.  The following organizations have had membership status changes in the Evangelical Council for Financial Accountability.  ADDITIONS: Defiance Area Youth for Christ (Defiance, Ohio), Zion Evangelical Ministries of Africa (Zion, Ill.), Mission on the Move (Springfield, Ga.), Action International Ministries (Mountlake Terrace, Wash.), The Finishing Fund (Prospect, Ken.), Coreluv International (Willis, Tex.), West Houston Chinese Church (Houston, Tex.).  REMOVALS:  Lois Lodge (Matthews, N.C.),
MinistryWatch Rating Changes.  The following ministries have their profiles updated with the most recent year's financial data.  The Financial Efficiency rating of each ministry is in parenthesis. If this rating represents a change from the previous year, that change is noted: Fellowship International Mission, Inc. / FIM (5 Stars, Transparency Grade: C), D. James Kennedy Ministries / Coral Ridge Ministries Media, Inc. (2 Stars, Transparency Grade: A), Willow Creek Association / Bill Hybels (2 Stars, Transparency Grade: C), Guido Evangelistic Association, Inc. (Down from 4 to 3 Stars, Transparency Grade: D), Inspirational Network / Inspiration Ministries / INSP (1 Star, Transparency Grade: N/A), Gospel Recordings (Down from 3 to 2 Stars, Transparency Grade: C), Freedom in Christ Ministries (4 Stars, Transparency Grade: A), Inspire International (3 Stars, Transparency Grade: D), Koinonia House, Inc. / Chuck Missler (4 Stars, Transparency Grade: D), Child Evangelism Fellowship (Down from 3 to 2 Stars, Transparency Grade: A), Family Life Ministries (Down from 3 to 2 Stars, Transparency Grade: A), Far Corners Missions (Up from 2 to 3 Stars, Transparency Grade: D), Project PATCH (Down from 3 to 2 Stars, Transparency Grade: D), Life Issues Institute (1 Star, Transparency Grade: D), Live Action (2 Stars, Transparency Grade: D), Living Stream Ministry (3 Stars, Transparency Grade: D), Marriage Today (3 Stars, Transparency Grade: C), Pilgrim Radio Network / Western Inspirational Broadcasters, Inc. (4 Stars, Transparency Grade:  A), Radio Bible Hour, Inc. (CLOSED), Tentmakers (1 Star, Transparency Grade: D)