Weekend Plug-In: June 5, 2020

Trump's "Jericho Walk," George Floyd, and More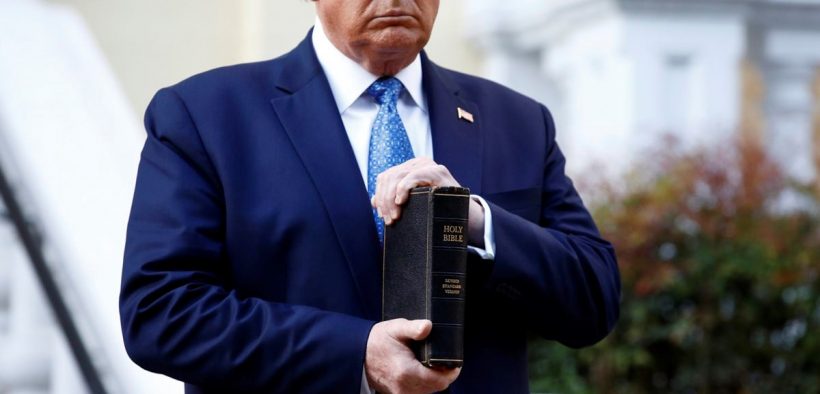 Editor's note: "Weekend Plug-in," featuring analysis, insights and top headlines from the world of faith, is produced by Religion Unplugged.
What's left to say about the week's biggest religion story?
President Donald Trump's now-famous walk from the White House to the nearby St. John's Episcopal Church literally broke the internet. Or at least it overloaded the Religion News Service servers. Credit an explosive report by national correspondent Jack Jenkins for that.
Power Up: The Week's Best Reads
Trump pushes churches to reopen, but black pastors in hard-hit St. Louis preach caution: Hey, remember when the coronavirus pandemic was all we were talking about?
Speaking of which: While many faith leaders have pushed for resuming in-person services, the Washington Post 's Griff Wiffe delves into the concerns of "black pastors in the Gateway City who have spent months seeking to nurture in their congregations a sense of respect for a virus that spreads silently and kills readily."
A few other worthwhile COVID-19-related reads:
Amid protests, looting and COVID-19, a Minnesota black church hopes and prays: "Just a fabulous story (and great pictures!)," award-winning religion writer Kimberly Winston said of this Religion Unplugged story by veteran journalist Deena Winter.
To which I respond: Amen!
In the wake of George Floyd's death, Winter's on-the-scene report from St. Paul, Minn., is full of crucial, compelling details. And the ending is superb, a testament to her writing talent. So be sure to read it all.
Peaceful church protest in Brooklyn brings disruption, blessing and a call for change: The best journalism requires reporters on the scene. Enter Religion News Service managing editor Roxanne Stone with this firsthand account from New York City.
But that's not all: Read this story, too, from Chicago-based RNS national correspondent Emily McFarlan Miller.
Wait, there's more: Alejandra Molina, Los Angeles-based RNS national correspondent, covered a rally on the West Coast.
Most impressive: All three of these reports were published on the same day.
More top reads: Feeding America during COVID-19, G. Jeffrey MacDonald, Christian Science Monitor … Where Jesus was baptized, Jordan vies with Israel for tourists, Jane Arraf, NPR … Nashville pastors protest and preach against police brutality, Holly Meyer, The Tennessean … As faith leaders minister to a community in pain, they also see reasons for hope, Evan Grant, Dallas Morning News … The Museum of the Bible is winning over some of its biggest critics: Jewish scholars, Menachem Wecker, Washington Post Magazine … Street art depicting Pope Francis highlights homeless struggle in Milan, Claire Giangravé, Religion News Service … Southern Baptists see historic drop in membership, Sarah Pulliam Bailey, Washington Post … Near Boston, a Friendly's-turned-Hindu temple serves holy offerings to go, Aysha Khan, RNS … Southern Baptist Convention president's church policies questioned, Adelle M. Banks, RNS … As protests erupt, Christians ask: What would Jesus do?, Kelsey Dallas, Deseret News.
Inside The Godbeat: Behind The Bylines
Congratulations to Christopher White, who has been named the new national correspondent for the National Catholic Reporter.
White, previously the national correspondent at Crux, succeeds Heidi Schlumpf, who was promoted to executive editor of the National Catholic Reporter in March.
I enjoyed getting to know White last year when we traveled to Israel with a group of U.S. religion writers.
Charging Station: In Case You Missed It
Here is where you can catch up on recent news and opinions from Religion Unplugged.
Bobby Ross Jr. is a columnist for Religion Unplugged and editor in chief of The Christian Chronicle.