Upward Sports Sells Headquarters, Expands Into Adult Sports Ministry

The sports ministry is focusing on expanding local sports programs for children and adults nationwide.
Upward Sports, a South Carolina-based ministry that partners with churches to build local sports programs, has sold its corporate headquarters and sports facility in Spartanburg for $35 million.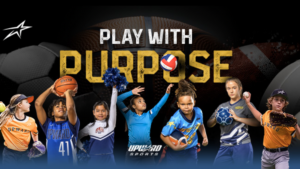 The ministry purchased the property in 2006, Upward's Executive Director Kevin Drake told MinistryWatch, and its corporate headquarters and distribution center were built in the first phase of construction. In 2014, it built the Star Center, a 120,000-square-foot sports complex with six indoor basketball courts.
When Drake became Upward's executive director in 2020, he took a hard look at each aspect of the ministry.
"Many things were already working well, but the Star Center represented a small portion of this ministry—but it consumed a disproportionate share of Upward's attention and resources," Drake said.
Founded in 1995, Upward currently has 220,000 children across the country involved in its outreach programs, recruiting 420 new church partners over the past 24 months.
Drake says sports ministry is an effective way to engage the community with the Gospel—especially as many churches across the nation have either plateaued or are shrinking. On average, 50% of sports league participants are not part of the church where the league is being held.
Upward leadership has not determined what to do with proceeds from the sale of its facilities, but Drake says they want to be faithful in stewarding the money. "We are not interested in sitting on the funds," he said. Upward is looking into creating a grant request process for churches that want to offer sports outreach in their communities.
Access to MinistryWatch content is free.  However, we hope you will support our work with your prayers and financial gifts.  To make a donation, click here.
It is currently leasing back space from the new building owners for its corporate headquarters. It has moved its distribution operations to Augusta Sports, who already makes most of its Upward Sports apparel. For Upward participants in Spartanburg, Upward has made arrangements for local leagues to continue using the courts at the Star Center.
Upward also recently acquired Run for God Ministries, its first foray into Christian sports outreach to adults. Run for God has existed for 13 years. It will now become Upward Running and Upward Run Club. "It's going to be a great extension for us to get into adult ministry," Drake said.
The group plans to leverage its relationships with thousands of churches across America to start running programs for adults. The programs need just one or two church members to lead participants through the process of building endurance in running. The weekly meetings will include both group running activities and Bible study.
Run for God Ministries has proven that people will participate in the weekly Couch to 5K, Couch to 10K, and similar training programs. After running a race together, participants can join the subscription-based model of Upward Run Club for continued discipleship.
"We're not here for fun or to be just a social club. We want to see people come to Christ and grow in Christ," Drake said of expanding their mission to include the running program.
"We are looking at how we can grow the ministry, to grow the mission, to grow the kingdom. We don't know what that looks like or what opportunities God will open for us," Drake said about the future.
Upward has a donor confidence score of 100 in the MinistryWatch database. It earns an "A" transparency grade and a 3-star financial efficiency rating.
Upward Sports suffered significantly during the COVID pandemic and accompanying restrictions in many locations. Drake said the league creation numbers dropped 73% during the fall 2020 to fall 2021.
According to Upward's chief financial officer Amie Busbee, revenue picked back up after the pandemic ended, and Upward saw an 85% increase in participation.
Additionally, Upward had participated in a new market tax credit program in 2014 to build its sports facility. The Upward Foundation provided a leverage loan for the facility construction, which was recorded as a $10 million contribution on the 2022 Form 990 after the tax credit financing was unwound in preparation for the facility's sale.