UMC Bishops Request 2026 General Conference as Hundreds More Churches Disaffiliate

To date, at least 2,804 churches have left the United Methodist Church since 2019, according to United Methodist News Service.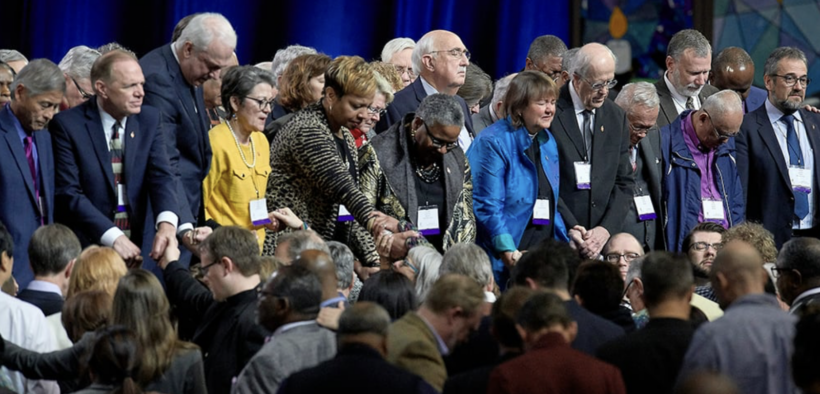 CHICAGO (RNS) — United Methodist bishops have proposed a five-day meeting of the denomination's global decision-making body, the General Conference, in May 2026.
The announcement comes at the end of the Council of Bishops' spring meeting last week in Chicago and a weekend that saw hundreds of United Methodist churches in the United States leave the denomination.
The 2026 General Conference would focus on re-establishing connection within the United Methodist Church, lamenting, healing and recasting the mission and vision for the mainline denomination after years of strife over LGBTQ issues, according to a press release published Monday (May 8) on the Council of Bishops' website.
Delegates to the General Conference also would consider a more regional governance structure to better support the remaining denomination, which currently numbers about 30,000 U.S. churches.
"I admit to you I'm eager to get past all this. I want us to stop talking about disaffiliations," Bishop Thomas Bickerton, president of the Council of Bishops, said during the bishops' meeting, which ran April 30 to May 5.
"I'm worried genuinely that we've spent more time on those that are leaving than focusing our energy on those who are staying."
Access to MinistryWatch content is free.  However, we hope you will support our work with your prayers and financial gifts.  To make a donation, click here.
Delegates to the 2020 General Conference meeting had been expected to consider a proposal to split the denomination over its disagreement on sexuality and help create a new, theologically conservative denomination called the Global Methodist Church. That would allow the United Methodist Church to change language in its Book of Discipline that bars same-sex marriages and clergy who identify as LGBTQ.
When the 2020 meeting was postponed a third time for pandemic-related reasons, the Global Methodist Church went ahead and launched last year. To date, about 2,000 churches have joined the new denomination.
More recently, United Methodists' top court, the Judicial Council, ruled that the General Conference meeting set for April 23 to May 3, 2024, in Charlotte, North Carolina, should be considered the postponed 2020 meeting. Because those meetings must be held once in four years, the court also ruled that the denomination must hold another meeting afterward to take the place of what would have been the 2024 meeting before the next regularly scheduled session in 2028.
The bishops' request to hold that meeting in May 2026 now goes to the Commission on the General Conference to set the date.
Meanwhile, over the weekend, at least seven annual conferences met to approve disaffiliation requests from more than 300 churches within their boundaries. The number will likely go up as final votes are still being tallied from the Western North Carolina conference, according to United Methodist News Service.
To date, at least 2,804 churches have left the United Methodist Church since 2019—up from 2,000 at the end of last year—according to UMNS. That's when a special session of the General Conference approved a disaffiliation plan allowing churches to vote to leave over "reasons of conscience" related to sexuality, while keeping their properties if they pay certain pensions and apportionments.
More disaffiliations are expected as annual conferences hold their regular meetings this summer. Some have scheduled special sessions later this year expressly to approve requests from their churches to disaffiliate.
The disaffiliation plan sunsets on Dec. 31, and Bickerton told the Council of Bishops last week that the new year would begin a "period of jubilee" for the denomination.
"This season of disaffiliations must come to a close if we ever hope to refocus our attention on the mission and ministry opportunities that are before us. This has been our work, is our work, but cannot remain our work," he said.