Turkey's Only Christian Magazine Turns 10 Years Old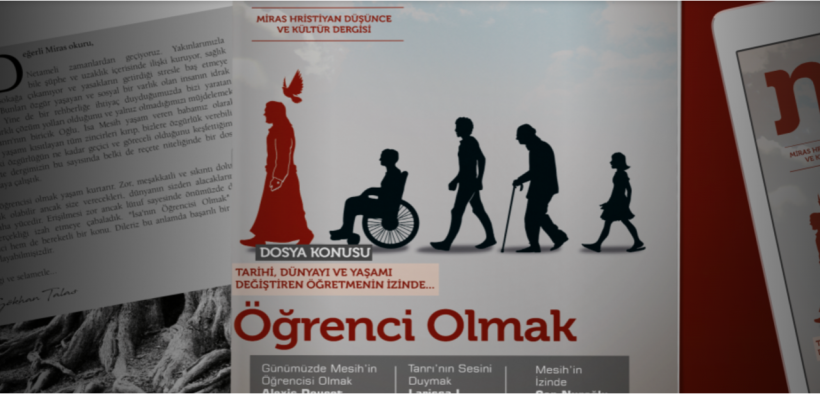 Publisher Gökhan Talas recalled the early days of his Miras magazine when he took a finished issue of Turkey's only Christian periodical to an advertiser to collect payment. One pastor had not only bought an advertisement but also written a piece for the fledgling magazine.

"My associate and I visited him for the payment, but then we realized his article wasn't in the magazine," Talas said, a twinkle in his dark eyes. "The pastor said, 'It's okay; I can understand it happening, but can I see the advertisement?'"
Talas raised his eyebrows, looked at his companion and confessed, "The advertisement is not in the magazine. It was forgotten, too."
The incident may have been a lighthearted one, but the work Talas, 39, and his wife, Ozge, 38, do is deadly serious. A former adherent of Islam, Talas became a Christian while doing his mandatory military service. He had a nominal understanding of Jesus as a man of history. But then he read a Bible and found Christ the savior, he said.
Talas used his training as a graphic artist, knowledge he gained from Kurtulus churches in Ankara and experience at the Filipus theological school to found Miras Publishing Ministries with his wife in 2011. December marks its 10th anniversary.
While Turkey is an area that dominated the landscape in the New Testament, it isn't one that welcomes Christian evangelism these days.
Ryan Keating — an American pastor who was arrested by Turkish authorities in Cyprus on charges of illegally importing Christian materials — is one of the magazine's writers. Before moving to northern Cyprus — which only Turkey recognizes as a Turkish republic — Keating was deported from Turkey and banned for life in 2016 on grounds of national security.
Access to MinistryWatch content is free.  However, we hope you will support our work with your prayers and financial gifts.  To make a donation, click here.
This came after the arrest of American pastor Andrew Brunson, who was detained for 18 months and then released, facing charges without evidence of aiding terrorism and political and military espionage.
The U.S. State Department has estimated that of Turkey's total population — which is around 82 million — 99% is Muslim. Meanwhile, public opinion surveys published in January 2019 by Turkish research firm KONDA suggested that 3% of the population identifies as atheist and 2% identify as nonbelievers.
From 1894 to 1924, the number of Armenian, Greek and Assyrian Christians in the Turkish region fell from 3-4 million to just tens of thousands — or from 20% of the population to under 2%, according to "The Thirty-Year Genocide," by researchers Benny Morris and Dror Ze'evi. Today, Turkish Christians live in the shadow of this history.
The U.S. government reported, "Representatives of other religious groups estimate their members are 0.2 percent of the population, while the most recent public opinion surveys published in January 2019 by Turkish research firm KONDA suggest approximately 3 percent of the population self-identifies as atheist and 2 percent as nonbelievers."
Miras, which means inheritance in the Turkish language, is still the only Turkish Christian magazine. Talas, who was a guest for the 2019 Evangelical Press Association convention in Oklahoma City, first served as a speaker for Magazine Training International's Crisis Publishing Initiative conference in Hungary in 2017. These days, he writes an occasional guest blog post for MTI.
"MTI has rich resources and their training sessions are very beneficial," Talas said. "Sharon Mumper and her team organize absolutely useful conferences and they gather people from the Christian publishing world."
Talas' publications are in Turkey and Iran, areas hostile to the evangelical message of the gospel.
"Magazine Training International is a huge help for organizations like ours," Talas said. "We are far from other countries where Christianity is more accepted and MTI gives us an opportunity to know more people from the same side as us." 
Still, the work is not without hazards.
Talas was the chief witness in what was called the Zirve Publishing House murders or the "missionary massacres" in April 2007 in Malatya, Turkey. Five Muslim attackers targeted, tortured and killed three of the Bible publisher's employees.
Talas provided testimony, telling Turkish media he arrived at the publication office and found the door locked. Using his cellphone, Talas called one of his coworkers, who answered and said he was at a hotel. Just then, Talas heard crying inside the office and then heard the sound of gun fire. His coworkers inside the office were shot to death.
"The government regularly monitors every Christian organization and church," Talas said. "They see us as potential enemies of the state and treat us as foreigners."
Nonetheless, his publications and broadcasts on social media and satellite are reaching an audience.
A Turkish reader in London told Talas, "I have been reading your magazine since 2017 and I have been following your website regularly."
The reader, who asked not to be identified, went on to say, "Your message gave me strength at a time when I felt very lonely and aimless after my divorce. While reading your articles on ecology and Christianity, I realized how carefully God looks at the world. I started to support many environmental movements and now I am joining a church after moving to England. I can't say I'm a Christian yet, but I love Jesus and feel close to him."
A reader in Kirklarel, a province in northwestern Turkey on the west coast of the Black Sea, found Miras while conducting internet research. She wrote, "I saw that the worldview of Christians is very close to me. Also, you write not only with religious concerns, but also with very humanitarian concerns."
In Amasya, the capital of Amasya Province on the Black Sea coast, a reader named Kadri praised Miras, saying, "I've been a Christian for five years and my biggest complaint was the scarcity of publications with new and different views. As a Christian, I had a hard time expressing myself on current issues. However, Miras fills a big gap in this sense. You give us a very different perspective and we discuss many of your articles with young people in our church."
"Many people are seeking God and questioning their faith and traditions," Talas said. "The opportunity in Turkey is huge and the harvest is ready to reap. … We need prayers from every brother and sister who hears our story. Miras needs your support and unity."
Talas, his wife and 12-year old son Cinar Kaan conduct this ministry with donations, mostly from overseas.
"I appreciate that Gökhan knows how to laugh and return to joy after wrestling with deep and difficult issues," said Amy Ohler, director of Filipus Ministry Training, where Talas studied. Filipus is Turkish for Philip, a figure from the book of Acts.
Talas was not only a student at Filipus but was later on staff for a brief time before heading to Istanbul to be involved in different ministries there. Ohler said he and Özge were a joy to work with.
"I think a most memorable moment I have with Gökhan came after he and his wife had already moved to Istanbul," Ohler said. "His wife was struggling, and he encouraged her to go and spend a few days with us in Ankara for rest and reconnection with old friends, and in order to do that he arranged things to make it possible for her to go, covering the travel costs and caring for their son on his own for a few days."
But for the future, Talas has a lifetime goal.
"Good news!" Talas said, his arms opened wide. "I want people to remember Miras as a strong evangelical ministry. Magazines and broadcasts are only tools of a main purpose. I dream people can say about us, 'They served the Lord well.'"
This article was first published by Religion UnPlugged. It is reprinted with permission.