The Ten Best Books I Read in 2022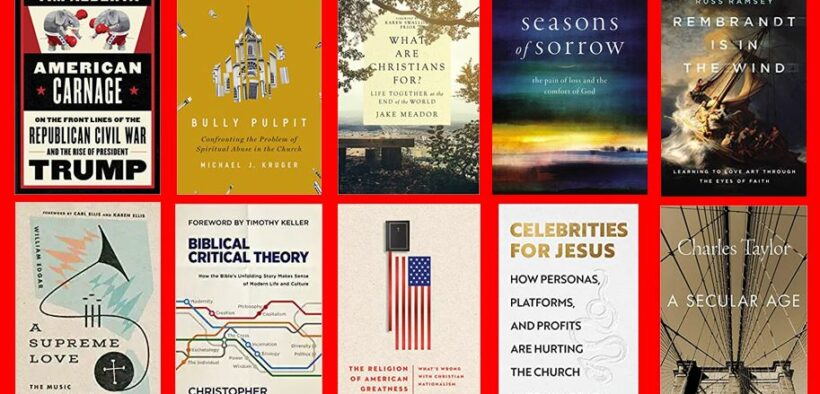 I know people who claim to read a book a day.  I don't believe them.  They may have sat with the book in their lap and turned all the pages in the book from front to back.  They may even have read the chapter titles and the opening and closing paragraphs of those chapters.  But reading a book — to really read and absorb a book — takes time, skill, attention, and love.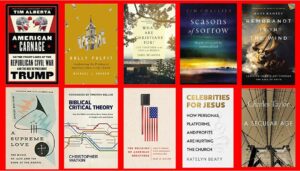 So the list of books I read in 2022 is not long.  It ended up being about 30 books.  When one reads only 30 books in a year, it would be presumptuous to say that any list that person creates would be the "best" books of the year.  So I will simply say they are the best of the books I read.
In some cases, they are books I read for the podcast I do for WORLD magazine, "Listening In," a podcast that often involves interviewing authors.  If I did an interview with the author, a link to that interview is attached.
In many cases, they are books I read as part of my job here at MinistryWatch.  I read books that relate to charity and philanthropy, and we use books here at MinistryWatch as "donor premiums."  Some people scoff at the idea of "donor premiums," free gifts to those who donate to a ministry.  I, however, do not.  I consider the curation of these "donor premiums" to be an important part of my job and an important part of our ministry.  The books we use as "donor premiums" are books we believe serious Christians should have in their libraries.
So, with all these stipulations noted, here's a list of the ten best books I read in 2022, presented in alphabetical order, with a few sentences about each.
Access to MinistryWatch content is free.  However, we hope you will support our work with your prayers and financial gifts.  To make a donation, click here.
A Secular Age by Charles Taylor
I believe that 500 years from now, this will be one of just a few dozen books that will be read written in this century.  It's already showing up in other people's books (James K.A. Smith and Christopher Watkin to name a few) as a foundation or touchstone of their work.  It's truly magnificent, but it is also, as they say, "a heavy lift."  My recommendation is to read a few pages a day, with pen in hand.
A Supreme Love:  Jazz and the Gospel by William Edgar
It's no secret to my family and friends that I love music, so this book was right up my alley.  One of the best things about this book are the mini biographies of jazz greats, with a particular emphasis on their spiritual lives.  If you know and love jazz, I think you'll still find much new and nourishing here.  If you do not know jazz, this is a great introduction.  Bill Edgar is a long-time professor at Westminster Theological Seminary.  You can listen to my interview with him here.
American Carnage by Tim Alberta
This book is ostensibly about the rise and fall of Donald Trump, but it is also a social history of America going back to the mid-90s, with particularly powerful insights into evangelicalism.  The book came out in 2019, but I'm just now getting around to it.  It remains timely today.
Biblical Critical Theory by Christopher Watkin
I said above that not all of the books on this list would qualify as "best of" books in the broadest possible sense, but this one certainly would.  In fact, it made both The Gospel Coalition's and Christianity Today's "best of" lists for the year.  Those accolades are well-deserved.  This is a spectacular book, though – like A Secular Age – is also a heavy lift, and weighs in at more than 600 pages.  But don't be discouraged from giving it a try.  The writing is lively, making this book as fun to read as it is intellectually nourishing.
Bully Pulpit by Michael Kruger
What is spiritual abuse, and how do we prevent it?  Michael Kruger answers these questions with the rigor of a theologian and professor (which he is) and with the heart of a teacher and pastor – which he also is.  This book also ended up on a couple of "best of" lists of the year.  I discuss this book with Mike Kruger here.
Celebrities for Jesus: How Personas, Platforms, and Profits are Hurting The Church by Katelyn Beaty
Katelyn Beaty believes that some Christian leaders use their fame and influence in positive ways.  But too often, she says, fame and celebrity are cultivated for their own sake, or for the sake of profits and the building of personal empires.  Read my interview with Katelyn Beaty here.
Rembrandt Is In The Wind by Russ Ramsey
This book, too, would be on my "best of" list – if I was creating such a list, which (did I mention?), I'm not.  What I liked best about this book was that it was not only a great introduction to some of the world's great artists, but also a primer on how to regard art.  It also handled interesting philosophical questions, such as how despicable people could produce transcendent work.  Highly recommended.  I also recommend my interview with Russ Ramsey, which you can find here.
Seasons of Sorrow:  The Pain of Loss and the Comfort of God by Tim Challies
This is a deeply moving book that I predict will take its place on the bookshelf next to C.S. Lewis's A Grief Observed.  Beautiful and hard and nourishing.  To hear my conversation with Tim Challies, click here.
The Religion of American Greatness:  What's Wrong With Christian Nationalism by Paul Miller
The beauty and value of this book is its precision.  It carefully defines terms like "Christian Nationalism" and helpfully distinguishes it from patriotism, which Miller affirms.  He also carefully explains how evangelicals hurt their witness and dishonor the Gospel when they allow the ends to justify the means.  My interview with Paul Miller is here.
What Are Christians For?  Life Together At The End of the World by Jake Meador
Most evangelical Christians can tell you what they are saved FROM.  They are saved from sin, from death, from hell.  But what are we saved FOR?  Answering that question is why Jake Meador's new book "What Are Christians For?" is so helpful.  Jake Meador starts with first principles.  He begins at the beginning, with the idea that God make the world, and he made it good.  Yes, the Fall broke the world in profound ways, but by starting with the givenness and goodness of the world, we read both Scripture and history in new and helpful ways.  Read my interview with him here.