Paula White-Cain, one of the "Grassley Six," named to Trump Administration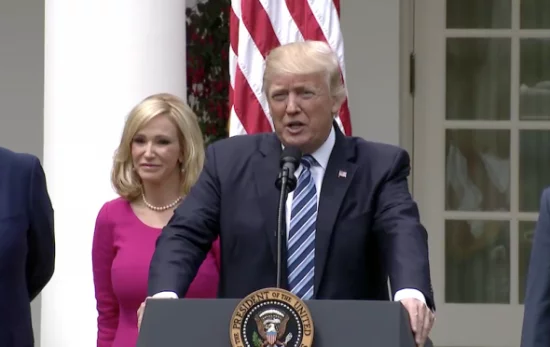 Paula White-Cain was investigated by Sen. Charles Grassley for financial improprieties in 2008, and the church she led – which once boasted a membership of 20,000 people — declared bankruptcy in 2012.
But America loves second acts, and this week the Pentecostal preacher and longtime adviser to President Donald Trump, was tapped to head the White House's Faith and Opportunity Initiative, a successor to previous administrations' faith-based office that coordinates outreach to religious communities.
"Paula White is the Advisor to the (White House) Faith & Opportunity Initiative," read a statement from the White House sent to Religion News Service. A White House spokesperson later said, "She is heading up that initiative."
The news of White's new role was first reported by The New York Times.
The appointment of the popular author and former pastor of a Florida megachurch, sometimes called "the Trump whisperer" for her closeness to the president, coincides with the release of her latest book, Something Greater.
Americans United for Separation of Church and State was quick to denounce White's appointment on Friday (Nov. 1).
"Televangelist Paula White is unfit to serve in the position of advisor to the White House Faith and Opportunity Initiative," read a statement from Americans United President Rachel Laser. "She has no experience in government or public service and no history of undertaking the kind of interfaith outreach necessary for this role."
The statement continued: "This appointment is yet another example of President Trump pandering to his evangelical Christian supporters as he scrambles to secure his base amidst an impeachment investigation."
However, that statement doesn't take into account that White-Cain is controversial even among evangelicals.  She is, like Trump, on her third marriage, a condition that would disqualify her from ministry in many denominations.  Further, according to a report in Christianity Today, "there has been concern in evangelical circles recently over how some of President Trump's key evangelical allies—including Robert Jeffress, Jack Graham, and Franklin Graham—promoted Paula White-Cain's new book."
CT's account called their support "surprising" because of White-Cain's prominence in the prosperity gospel movement.  Russell Moore, president of the Southern Baptist Convention (SBC)'s Ethics and Religious Liberty Commission, have classified White-Cain as a "charlatan" and "heretic."
The Faith and Opportunity Initiative is similar to the White House Office of Faith-Based and Neighborhood Partnerships that was created under President George W. Bush and continued under President Obama under a slightly different name.
Under Trump, federal agencies and departments that do not currently have a center on faith-based issues are ordered to designate a liaison to the new office and coordinate with the adviser.
Trump's executive order also called for all administration agencies to report to the attorney general concerns raised by religious and community groups about "any failures of the executive branch to comply with protections of Federal law for religious liberty."
In the past, the director of the faith-based initiative has been involved with supporting national and cabinet-level efforts to partner with religious and community groups to address social needs, from fighting the Ebola virus to feeding hungry schoolchildren.
White stumped for Trump during his 2016 presidential campaign and has defended him throughout his presidency. In August 2017, she declared on a show hosted by Jim Bakker, another discredited televangelist, that Trump had been elevated to the presidency by God and that resisting him is akin to resisting "the hand of God." She later said she regretted making those comments, but insisted Trump "is not a racist."
White has already been fulfilling many of the duties of her new role on a volunteer basis since the beginning of Trump's term. Her website gives her credit for coordinating a July 2018 meeting of millennial evangelicals with top administration officials in conjunction with the White House Office of Public Liaison, saying, "Over the past 18 months Pastor Paula and OPL have brought in over 2,000 pastors and ministry leaders to the White House to have the voice of the faith community heard."
Her formal appointment, however, may give White more power to organize an office that has been leaderless since it was created.
White will have the support of many conservative evangelical leaders as she begins her formal role. "She would be the perfect fit," the Rev. Samuel Rodriguez, president of the National Hispanic Christian Leadership Conference, said in an email when her name was first mentioned for the office back in February.
A History of Controversy
But White comes to her new position having survived repeated controversy. Her ministry was among six religious broadcasters investigated over three years by Sen. Charles Grassley, R-Iowa, for allegations of lavish spending. When the probe concluded in 2011, Grassley's report said several former staffers of her Tampa megachurch wanted to speak to Grassley staff but "were afraid of being sued by the church."
Grassley's final report found no evidence of wrongdoing, but also said that White and the leaders of her church failed to cooperate with the investigation.  In an interview I did with Sen. Grassley, I asked if the 2008-2009 financial crisis distracted him and his committee from their investigation of the televangelists, giving them a "get out of jail free" card.  Grassley said no, but MinistryWatch's Rod Pitzer said at the time that Grassley's investigation was "far less than we hoped for."
From 2012 until this spring, the charismatic minister led New Destiny Christian Center, a predominantly black church in Apopka, Florida, though according to the Christian Post White-Cain's relationship with the black community has "frayed" since she became an advisor to Trump.  Her Florida congregation is now led by her son.
Religion News Service contributed to this story.