Pastor Confesses to Kidnapping and Murdering 8 Year Old Attending His Bible Camp

After 50 years, detectives solve the open murder case of a little girl by confirming the killer was a pastor her family knew and trusted.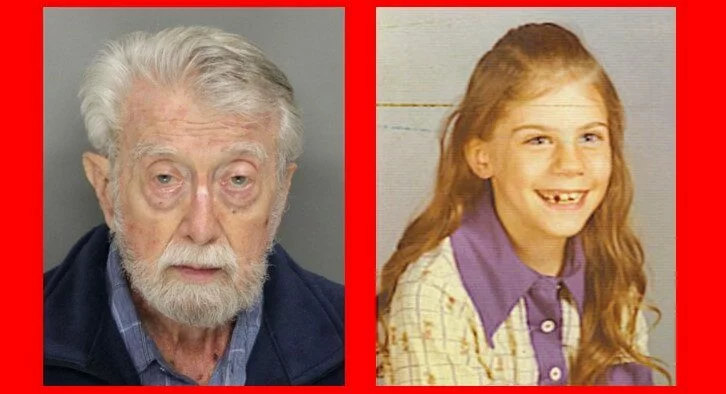 Nearly 50 years after the skeletal remains of a missing 8-year-old girl were found, a pastor confessed to police that he kidnapped and killed her.
Authorities charged former pastor David Zandstra, 83, of Marietta, Georgia, on Monday with criminal homicide, murder of the first, second, and third degree, and kidnapping of a minor.
According to the Pennsylvania District Attorney's office, on August 15, 1975, Gretchen Harrington left her home at approximately 9:30 a.m. to walk to her summer Bible camp in Marple Township, Pennsylvania. The camp was conducted between two church campuses—Trinity Church Chapel Christian Reform Church and The Reformed Presbyterian Church next door. Zandstra was the pastor of Trinity, and Gretchen's father was the pastor of Reformed Presbyterian.
Zandstra led opening exercises at Trinity, and was sometimes responsible for transporting the children to Reformed Presbyterian at around 10 a.m. for the next part of camp.
The statement said the victim's father became concerned after she failed to appear at Reformed Presbyterian with the other children.
Concern for her whereabouts quickly spread, and at 11:23 a.m. Zandstra contacted the Marple Police Department to report the girl's disappearance.
Almost exactly two months later, in October 1975, a jogger discovered skeletal remains in Ridley Creek State Park. Officials identified the remains as Gretchen's.
A witness connected to the initial investigation reported seeing Gretchen speaking with the driver of a car resembling Zandstra's. Police interviewed him in October 1975, but he denied seeing the victim on the day she went missing.
Access to MinistryWatch content is free.  However, we hope you will support our work with your prayers and financial gifts.  To make a donation, click here.
According to a criminal complaint, police narrowed in on Zandstra as a suspect earlier this year, in January, after interviewing an unnamed witness who was best friends with his daughter when Gretchen vanished.
The witness said she frequently attended sleepovers at Zandstra's house and one night she was awakened by Zandstra groping her groin area. The witness, who said she was 10 years old then, also told Zandstra's daughter what happened.
Zandstra's daughter told her that Zandstra "does that sometimes." In her diary from 1975, the witness made a notation that she believed at the time the likely culprit was Zandstra, according to the complaint.
Earlier this month, Pennsylvania State Police officers traveled to Georgia to meet with Zandstra. After confronting him with the witness' evidence of his sexual misconduct, Zandstra admitted to seeing Gretchen walking alone on the morning of her disappearance.
He said he offered Gretchen a ride and took her to a nearby wooded area where he parked the car. When she refused to remove her clothing, Zandstra struck her in the head with a fist. He believed she was dead and attempted to cover up and leave her body.
Police immediately filed an arrest warrant and criminal complaint and took Zandstra into custody. Officials denied Zandstra bail, and he remains detained in Cobb County, Georgia.
The Harrington family released a statement on Monday describing Gretchen as an "amazing" and "sweet and gentle" girl, according to The Philadelphia Enquirer. The family said they were seeking closure with Zandstra's arrest.
"It's difficult to express the emotions that we are feeling as we take one step closer to justice," the family's statement read. "The abduction and murder of Gretchen has forever altered our family, and we miss her every single day."