Nashville Churches, Already Online Due To COVID-19, Disrupted By Bomb Blast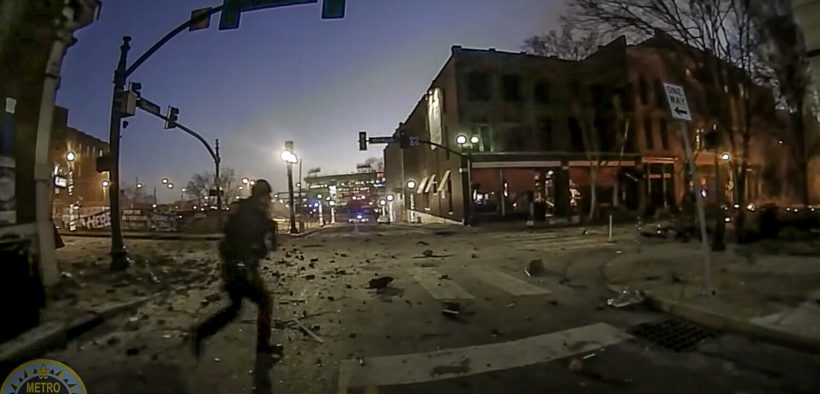 Jim and Sylvia Willis shared Sunday morning communion in the parking lot of the McDonald's on U.S. Highway 31 in Columbia, Tenn.
They partook of the elements—unleavened bread and fruit of the vine—about 12 miles south of their home in Spring Hill. It was one of the few places they could find a strong enough signal to stream the worship service from their congregation, the Heritage Church of Christ in the Nashville suburb of Franklin, Tenn.
The Willises were among thousands of AT&T customers across multiple states who lost home phone, cell, and internet service after a Christmas morning car bomb exploded in downtown Nashville, nearly 40 miles north of Spring Hill.
Thankfully, the reception in the fast-food parking lot allowed the couple to see the service on their cell phones, Jim Willis told The Christian Chronicle.
"We brought our own communion supplies. It was a wonderful service," he said during a Monday night (Dec. 28) interview on his home phone, which had resumed working just hours earlier. "Everything was great. It was just on a small scale."
About 6:45 a.m. Friday (Dec. 25), a recreational vehicle exploded outside an AT&T facility on Nashville's Second Avenue North, near historic music venues including the Ryman Auditorium. A woman's voice on a recording warned residents to evacuate before the explosion, the Tennessean reports. A 63-year-old man, identified as the bomber, died in the blast, which injured at least eight people and damaged more than 40 businesses, including a transmission facility that provides wireless service to much of the region.
Access to MinistryWatch content is free.  However, we hope you will support our work with your prayers and financial gifts.  To make a donation, click here.
Airplanes were grounded at the Nashville airport, and police departments reported disruptions in their 911 services. On Sunday AT&T announced it would waive data overage charges for customers in 1,166 ZIP codes — including Tennessee, Kentucky, Alabama, Indiana, Illinois, Georgia and Missouri — who may have been affected by the explosion.
The explosion could be heard for miles, said Blaine McKinney, communications minister for the Mt. Juliet Church of Christ, east of Nashville. One of the church's elders, who lives about 14 miles from the blast site, felt his house shake as he prepared to light a Christmas morning fire, McKinney said.
The outages that followed the blast came at an already difficult time for Nashville-area churches, most of which have limited in-person worship services or moved them online due to the region's surging COVID-19 hospitalizations.
The Mt. Juliet church's livestream was a bit sluggish, McKinney said, but it worked.
In Nashville, members of the Brentwood Hills Church of Christ drove to the church's parking lot on Saturday to use the congregation's Wi-Fi to check email and communicate with their families, said worship minister Andrew Leeper.
The church already had decided to move its Sunday worship online. Leeper sent messages to members reminding them that they could hear the service broadcast on an AM radio station—something the church has done for years—if their internet service was down.
During the online worship, the church replayed communion comments made by church member Drew Johnson on March 8, less than a week after an outbreak of tornadoes touched down along an 80-mile stretch from west of downtown Nashville to Putnam County. The storms claimed 25 lives and devastated communities across Middle Tennessee.
"The beauty of the Gospel is that our hope does not lie in the sanctity of our homes," Johnson said. "Our peace should not, cannot, and it will not ever come from those things you can build or that you can acquire. Even our mortal lives are forfeit to him who is able to do immeasurably more than you can ask or imagine…Our fear and doubt is the reason Jesus instituted this weekly reminder."
The March 8 service was the last in-person gathering before the pandemic began to disrupt the church's schedule, Leeper said.
Johnson's comments seemed appropriate as the congregation took communion "on yet another Sunday following a very difficult week in our city," he added.
In Franklin, the Heritage Church of Christ conducted socially distanced, in-person worship on Sunday.
Jim Willis, 79, and his wife chose the church's online option.
"We hate missing," he said, "but we have sequestered ourselves…We certainly feel like we've had a Scriptural worship via the internet," but "you just love to see the smiles and the greetings and see the people that you love. We're truly missing being together, but we're grateful."
The couple didn't have family members over for Christmas. They learned about the internet outage when Jim tried to set up a Skype video chat with his brother-in-law in South Carolina.
As they took the unleavened bread and fruit of the vine in the McDonald's parking lot, they felt "renewed appreciation for the technology that binds us," Jim Willis said. "I thank the Lord every day that we can stay connected."
This story first appeared in the Christian Chronicle, and then at Religion UnPlugged.
Erik Tryggestad is president and CEO of The Christian Chronicle. He has filed stories for the Chronicle from more than 65 nations.