More Churches Reopening In Time For Easter, But With Changes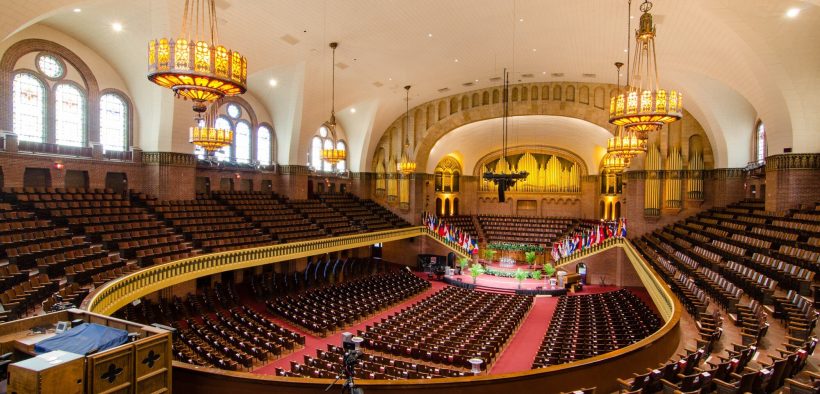 The historic 3,750-seat sanctuary of The Moody Church in Chicago is expected to be filled for the first time this Easter Sunday after months of people attending remote and online services across the country.
"Your elders have been seeking the Lord's face throughout this pandemic in prayer," said Phillip Miller, Senior Pastor of Moody Church. "We have decided after much prayer to begin a safe, an incremental reopening of Moody Church for weekend services beginning on Easter, which is exciting."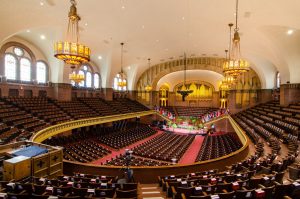 Miller said while the church will reopen there will be a number of restrictions that include masks, social distancing, and hand sanitizer.
"We have to be flexible for the sake of the kingdom," he said. "Not everything about Moody Church will happen on the first day, and that's okay…We are going to be together. I am excited about celebrating resurrection Sunday with you."
In many cities, churches will hold virtual services that will be streamed throughout Holy Week, which includes Holy Thursday and Good Friday services leading up to Easter Sunday. Some held in-person services for Easter 2020.
Access to MinistryWatch content is free.  However, we hope you will support our work with your prayers and financial gifts.  To make a donation, click here.
But nationwide, many congregations across the country are also reopening for the first time in some way. Many pastors say that reopening their congregation is much more than simply cleaning up and unlocking the doors of the church.
"As churches reopen across the country and the globe, I want you to know that the church will be a significantly different church than the one that left a year ago," said Bishop Joel Peebles, pastor of City of Praise Ministries in Landover, Md.
At one time, the 14,000-seat sanctuary was packed, but Peebles said on April 3, 2021, the church will "cut the ribbon" on a new testing and vaccination center in partnership with the county, and there are many people ready to return.
"Over the last year, we have had to check each other out on Zoom and Facebook and Instagram, and it has caused a disconnect," he said. "The church that returns, we have gone through 12 months of fear of COVID-19, the anxiety of financial despair and dealing with frustration. The church that returns will be disconnected from the power of the saints."
According to a March 28 report by Gallup, membership in U.S. houses of worship continued to decline throughout the pandemic in 2020, dropping below 50% for the first time in Gallup's eight-decade trend. Last year, 47% of Americans said they belonged to a church, synagogue or mosque, down from 50% in 2018 and 70% in 1999. Between 1998 and 2000, an average 73% of religious Americans belonged to a church, synagogue, or mosque. Over the past three years, the average has fallen to 60%.
Still, many Americans who no longer hold a formal membership to a house of worship continue to state a religious preference. They just prefer to practice their religion without an institutional membership.
Rev. Ianther Mills, pastor of the Asbury United Methodist Church, will have two virtual services on Good Friday that include the popular "7 Last Words Service", and on Easter, the church will host an 8 a.m. service on the lawn of Asbury where people are required to wear masks and social distance.
"Asbury hoped to return to in-person/indoor worship at Easter if it could be done safely.  However we are waiting for a higher percentage of our membership to be vaccinated.  Our Early Easter Morning 8:00 a.m. Service will be outdoor on the lawn, " Mills said. "This will be our first worship service in-person since the COVID shutdown. We are excited and looking forward to seeing those who gather. And, praying it does not rain."
Bishop Harry Seawright, the presiding prelate of the Ninth Episcopal District of the African Methodist Episcopal Church, is responsible for more than 200 churches covering the entire state of Alabama.
"We have given authorization to all of our churches to go back and open, but they must follow all of the international health commission guidelines, the CDC, and the World Health Organization," Seawright said. "They can open but they must safely distance themselves and wear masks and sanitize the building after each service."
Every member of the church must sign a waiver to the District Attorney to not hold an individual congregation liable for a COVID-19 infection. Even though people are transitioning back into their sanctuaries, this is a tough transition period, with churches feeling a lack of fellowship or community among their members, Seawright said. Thousands of AME church members in his district have also been busy preparing food baskets, operating food pantries, and making hot meals with neighborhood associations for people financially affected by the pandemic to pick up each Friday.
"On Good Friday we are preparing fish dinners, and then on Easter we will have a sunrise service on the lawn of our headquarters," Seawright said.
On Easter Sunday, Peebles' congregation is "still Zooming and having drive-up service with a big screen," he said, explaining a slow opening to encourage those who are vaccinated to return to the pews first. "We are going to come back intelligently."
Peoples also said the church would register families and escort them to a safe, socially distanced seat.
"Every week we will be expanding open seating to more and more congregants, but my message is that we have to take preventive measures to prevent another 540,000 deaths," he said.
And because of the emotional toll that the pandemic has taken on people, Peebles' congregation is offering personal finance and marriage counseling classes.
"The last 12 months has emotionally rocked people in our country, and it is going to take 12 months to rebuild people for success," Peebles said. "The church will not be business as usual."