MinistryWatch's Top 10 Stories for the Month of April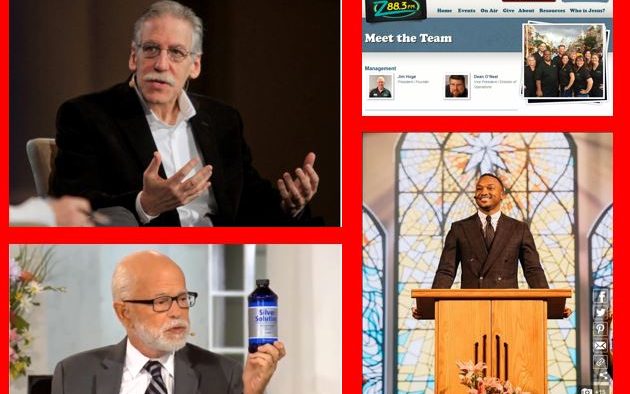 The following stories had the most page views at the MinistryWatch website during the month of April. We present them here in a "countdown" format, from 10 to 1. The first few sentences of each story are reproduced below. To read the entire story, click on the link. To read the Top 10 stories of 2020, click here.
10. Dueling Christian Radio Stations Roil Orlando Market
Is there joy in Orlando? Or no joy? Or maybe there's two joys? April 16, the Christian radio industry website HisAir.net announced that one of Christian radio's powerhouse stations, WPOZ/Orlando (Z88.3, or "The Z") would be "rebranding itself to Joy 88.3 starting this Monday [April 19] at 12:01 AM." But by April 18, "The Z" had called the whole thing off, sort of. The moves had a lot of industry insiders scratching their heads. Why would "The Z," which HisAir calls "one of America's most successful Christian Radio stations," rebrand itself, without prior announcements, in less than 72 hours. Things are still sorting themselves out, but here's what we know.
9. Ministry Founders, and Other False Gods
Z Ministries in Orlando, Florida, is the parent organization of a Christian radio powerhouse. The man at the top of the organization is Jim Hoge. He founded the station in 1995 after stints in secular radio and as an entrepreneur. Today, The Z has—as one radio insider told me—"all the toys" to compete in a major market: remote broadcasting vehicle, outside consultants that advise on everything from branding to which songs to play, and a promotion budget that some years approaches a million dollars, funding billboards all over central Florida. And one other thing: Jim Hoge has a "Founder's Protection" clause, making it almost impossible for him to get fired.
8. Wheaton College Professor Receives Death Threats for Encouraging COVID-19 Vaccinations
Jamie Aten has spent years trying to help his fellow evangelicals deal with disasters. In the past, when he wrote about hurricanes, floods, and tornadoes—or even his personal battle with cancer—Aten's work has been well received. When Aten, executive director of the Humanitarian Disaster Institute at Wheaton College, began to urge his fellow evangelicals to get vaccinated, however, things got ugly. "How's your Monday going?" he tweeted on April 27. "Mine started with having to file a police report in response to the increasing number of threats I'm getting for encouraging white evangelicals to get vaccinated against COVID-19."
Access to MinistryWatch content is free.  However, we hope you will support our work with your prayers and financial gifts.  To make a donation, click here.
7. No Charges in Case of Megachurch Pastor Who Admitted Soliciting Nude Photos
The Oklahoma City Police Department has decided not to file sexual misconduct charges against a California megachurch worship director who was terminated last month, saying the evidence in the case is unclear. According to an April 19 statement from the leaders of Menlo Church, located in San Jose suburb Menlo Park, former worship director Michael Bryce Jr. admitted he had solicited nude photos from a member of a church where he was formerly employed, but said he did not know the victim was a minor at the time. The victim had said another recent case of pastoral sexual misconduct in the news triggered his memory of the incidents, spurring him to seek help from a therapist and notify Bryce's employer.   
6. Church Launches Survey as Part of Investigation into Sexual Abuse Misconduct Allegations Against Chris Rice
Tates Creek Presbyterian Church (TCPC) in Lexington, Kentucky, has launched a survey on its website to collect information for GRACE as part of its investigation into allegations of sexual abuse/misconduct made against Chris Rice during his participation in TCPC events. The confidential survey, open to anyone with relevant information, launched in early March and asks respondents to describe any interactions with Chris Rice, personal knowledge of any sexual abuse/misconduct of minors during his association with TCPC activities, and for their level of confidence that TCPC will handle reports of abuse/misconduct appropriately.
5. Promise Keepers to Host July Gathering in Dallas after COVID cancelled 2020 Event
Promise Keepers, the men's ministry founded in 1990 by Colorado football coach Bill McCartney and resurrected in 2019 by Ken Harrison, announced Monday (April 19) that it will host its first live stadium gathering in years at Dallas's AT&T Stadium July 16-17, 2021. "Our times are hostile to biblical teaching about what it means to be a good man, a good husband and a good father," said Harrison in a press release. "Yet despite the unprecedented onslaught of culture, deep within the heart of Christian men, there is a burning desire to be men of God, be men of integrity, be heroes in their home and come together in person and lock shields with other Christian men for encouragement, inspiration, and to take a stand." The conference's theme is "Stand Strong," based on 1 Corinthians 16:13-14: "Be on guard; stand firm in your faith. Act like men and be courageous; be strong. Do everything in love."
4. Prominent Georgia Church Leaves United Methodist Church over Pastor's Reassignment
The largest United Methodist church in the Atlanta metropolitan region announced it is leaving the denomination over the reassignment of its lead pastor. Earlier this month, Bishop Sue Haupert-Johnson reassigned the Rev. Jody Ray, pastor of Mt. Bethel United Methodist Church in Marietta, Georgia, to a newly created position related to racial reconciliation in the North Georgia Annual Conference of the United Methodist Church. Rather than leave the church, where he has served since 2016, Ray announced at a virtual press conference Monday morning (April 26) that he was surrendering his credentials as an ordained elder in the United Methodist Church.  "Unfortunately, my options were to accept the move, take a leave of absence, or surrender my credentials," he said. "That's not consultation. It's just notification, and it violates both the spirit and letter of the covenants that bind us together."
3. Court Rules Benny Hinn's Church Owes Mail House More than $3 Million
A U.S. District Court in New York has ruled that Benny Hinn's World Healing Center Church is liable for more than $3 million in overdue payments to a mail house that provided printing and mailing services for the ministry. Mail America Communications Inc. brought the lawsuit against WHCC in September 2018 after repeated attempts to collect the debt, saying the church had fallen progressively behind in payments since the two organizations began doing business together in 2006. Mail America said the church was more than $5.6 million in arrears by early 2012.
2. Gospel for Asia Changes Name and Publicists, Few of Its Practices
It has been a rough seven years for Gospel for Asia, the ministry founded by K.P.  Yohannan in 1979—it was kicked out of the ECFA in 2015 for misleading donors and mismanaging finances, Indian officials canceled the registration of four of Yohannan's charities in 2017, it settled a class action lawsuit brought by American donors in 2019, Canadian donors filed a $170 million lawsuit against GFA in 2020, and in 2020 and 2021, authorities in India raided dozens of properties as part of an investigation into fraud and money laundering. GFA has repeatedly denied wrongdoing. Now, it's trying to change the narrative by adopting a new name—GFA World—hiring a new PR firm to enhance its public image, and announcing that it plans to expand its work into Africa.
1. Dallas Megachurch Pastor Resigns After Elders Voice Lack of Trust in Leadership
Embattled Dallas megachurch Senior Pastor Todd Wagner has resigned from his position after accusations of spiritual abuse led elders to question his leadership of Watermark Community Church. Elder and staff member David Leventhal stepped down in late March, citing "an erosion of trust" in Wagner's ability to lead. "We believe both men are seeking to be faithful to the Lord and honor one another in this process," a statement from the church's elders said. "After hundreds of hours of conversations over several months, every member of the elder team, elder emeritus team, and the various community groups involved all affirm these decisions."