Ministry Leaders Say U.S. Needs to do More for Persecuted Christians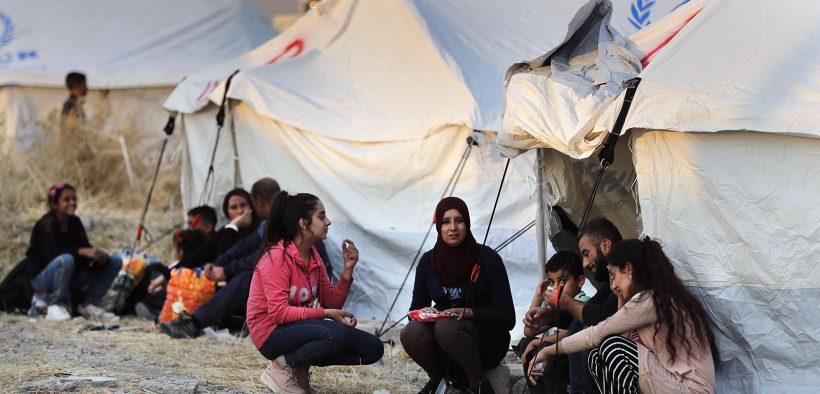 According to a new report released Friday from two Christian groups, the United States is falling short of protecting persecuted Christians worldwide.
"The number of persecuted Christians to whom protection is available through the U.S. refugee resettlement program and the application of asylum laws has still been dramatically curtailed," the report reads.
Entitled "Closed Doors: Persecuted Christians and the U.S. Refugee Resettlement and Asylum Processes," the report was prepared by World Relief and Open Doors USA—both organizations that work on issues of immigration and religious persecution.
Their findings focus on the federal government's drastic cuts to the refugee resettlement program, which has long been run in partnership with several religious organizations—including World Relief, an evangelical Christian group. According to the report, there has been a 90 percent reduction since 2015 in the number of persecuted Christians resettled in the United States.
In 2016, the annual limit on refugee resettlement was set at 110,000 people. That number was slashed to 45,000 shortly after, and it has been steadily reduced every year since: In fiscal year 2020, the ceiling was set at 18,000, the lowest in the program's history.
The reductions were widely opposed by progressive and conservative faith groups alike, and rumors of cutting the resettlement program altogether sparked responses from Republican lawmakers such as Sen. James Lankford (R-Okla.)
"The US has a strong history of welcoming refugees, who go through the proper channels of admittance into the US, as they flee persecution," Lankford tweeted in 2019.
The cap changes have also resulted in a sharp decline in persecuted Christians admitted into the country as refugees, this despite years of lobbying on the issue by conservative Christian leaders such as Franklin Graham.
"There are about 250 million people who are experiencing severe levels of persecution for their faith in Jesus," Open Doors USA CEO David Curry said during a call with reporters on Friday.
According to the report, the U.S. resettled 18,462 Christians in 2015 from countries on Open Doors' persecution watchlist. That number slipped to just 4,112 in 2018 before bumping up slightly to 5,787 in 2019. The administration has resettled just 946 persecuted Christians so far in 2020, due in part to complications from the ongoing global coronavirus pandemic.
Curry and World Relief CEO Tim Breene, who was also on the call, were quick to note that the issue doesn't just impact Christians. The refugee caps also dramatically reduced the number of religious minorities from other faiths allowed into the U.S., they said, including many people facing systemic persecution.
"We're committed to the biblical teaching that all people are made in the image of God and are worthy of protection from persecution whether or not they are persecuted for their faith in Christ or another religious belief," Breene said.
The report calls for the U.S. government to return to "at least a historically normal ceiling" for refugee resettlement, such as 95,000 refugees per year as recommended by the U.S. Commission on International Religious Freedom in 2019. In addition, the authors urge the Trump administration to reject proposed changes to existing immigration systems that would make it more difficult to attain asylum in the U.S.
"This is a significant gaping hole in their strategy: that there are some people that are still in danger for their faith," he said. "They're not going to be able to move back home. If they could, they would."
Walter Kim, president of the National Association of Evangelicals, called the data in the report "shocking." Kim also expressed disappointment in the federal government's refugee settlement policy.
The United States, he said, has "long (been) a beacon of hope for those fleeing religious persecution…We must change this policy and remain a leader for religious freedom."
Bishop Mario E. Dorsonville, auxiliary bishop of Washington and chairman of the U.S. Conference of Catholic Bishops' Committee on Migration, agreed.
"We are living in what St. John Paul II called a 'new age of martyrdom,' where many worldwide face persecution for their faith," he said. "I pray our nation will reverse course and once again stand with refugees and asylum seekers, including those escaping religious persecution."
Russell Moore, president of the Ethics & Religious Liberty Commission of the Southern Baptist Convention, urged his fellow Christians to "pay careful attention" to the findings of the report. He called on evangelicals to "recommit ourselves to ministering to all of those in our communities, and around the world, who are fearful for their very lives."
The federal government's changes to the refugee resettlement program have crippled the faith-based refugee resettlement program. Some groups, like World Relief, closed offices and laid off staff—some of whom were former refugees.
Curry said his organization has already reached out to officials at the U.S. State Department and the National Security Council to draw their attention to the new report, and World Relief staff said they plan to send the report to members of Congress as well as Sam Brownback, the U.S. Ambassador-at-Large for International Religious Freedom. Several faith-based groups have also urged Congress to pass the GRACE Act, which would set the floor for refugees at 95,000.
"We're hopeful," Curry said, "and really want to encourage them to step up and take some real significant steps towards addressing this refugee issue."