Feeding Children on the 'Forgotten Coast'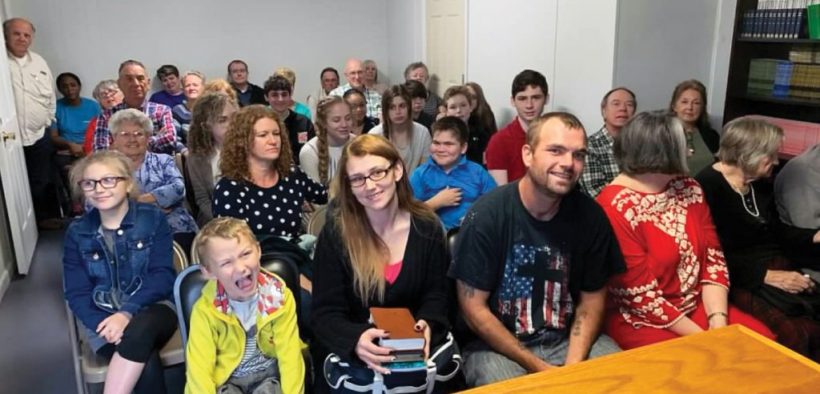 Jesus said, "Let the little children come to me."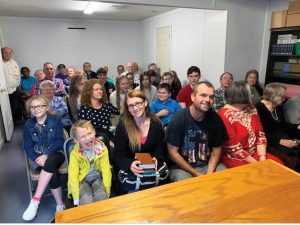 In Franklin County, Fla., the Eastpoint Church of Christ doesn't even have to ask. Children — ages 3 to 11 — flock to the church van driven by Jenny Johnson each Sunday.
First, she collects children in the town of Eastpoint. Then she drives 20 minutes to Apalachicola. It normally takes two trips to transport all the children to the church building. Before the Pine Hill Church of Christ in Waterloo, Ala., donated the van, Johnson made multiple trips by car.
One child's mother told a church leader she has to watch her young son closely any time he sees a white van —  not just the one Johnson drives.
"He runs toward it thinking he's going to get to go to Sunday school," said Gary Hall, the Eastpoint church's adult class minister.
While Jenny picks up the children — sometimes as many as 25 — her husband, Mike, the church's minister, cooks breakfast at the building. The menu features favorites such as bacon, biscuits, cinnamon rolls, sausage and fresh fruit.
Word about the services — and meals — has spread through the community via word of mouth. The children often bring along their friends and family.
Access to MinistryWatch content is free.  However, we hope you will support our work with your prayers and financial gifts.  To make a donation, click here.
For some kids, it's their first meal since school on Friday. About 19 percent of Franklin County's 12,451 residents lived below the poverty line in 2020, the U.S. Census Bureau reported, leaving children of impoverished families struggling with food insecurity.
Then the Florida Fish and Wildlife Conservation Commission closed the Apalachicola oyster fishery, leaving many unemployed in an already poor community on the coast.
The Johnsons began serving breakfast and lunch on Sundays to feed hungry children.
"The people here are in a cycle because they've lost their jobs," Jenny said. "They can't oyster anymore. … So they come to us; we have a pantry, and we have cleaning supplies and toilet paper, anything you need for your home to eat or to take care of yourself. … Usually we'll meet one person, and then they'll bring their friends."
After breakfast, the children join the adults in the auditorium to sing a few songs and observe the Lord's Supper before filing out for a Sunday school lesson led by Jenny.
"She's operating almost like a one-room schoolhouse, with kids from kindergarten up to maybe 10 or 12 years old, but she's got a wide range of capabilities," Hall said. "She's just tireless."
But teaching one lesson to a wide range of ages wasn't unfamiliar.
"My mother taught me how to teach class," Jenny recalled. "My father, the first time he started preaching, was with the Bevis Church of Christ in Lutts, Tenn. It was an old one-room schoolhouse and had a coal-burning stove. It was kind of like going back in time. … She taught me how to be her helper. She taught me how to teach."
Hall and his wife help feed the children before and after the service. They became involved with the congregation while vacationing at nearby St. George Island before eventually moving to Eastpoint to help with the ministry.
"Our mission is these children because that's who we can get to come," Hall said. "Mike and Jenny … they've given food, diapers, baby food, beds, refrigerators, stoves, furniture, clothing. They've given every kind of support that you can give to the community. And, of course, many people say, 'Well, I'm sure coming here.' And then they don't.
"But these kids are faithful to come, and they love to come, and that's who we're really focusing on."
'Writing a sermon that no one will hear'
While children now outnumber adults most Sundays, the Eastpoint church was not always so youthful — or crowded.
When Mike and Jenny Johnson arrived in 2018 to help with the congregation, there were only two elderly members. The church, which was founded in 2005 by James Lee, a graduate of Heritage Christian University in Florence, Ala., had dwindled. Sunday services were a small affair.
"Every Sunday I would get up and tell my wife, 'Well, this may be Eleanor Rigby,'" Mike said, referring to a famous Beatles song about a community without religion. "'I may be writing a sermon that no one will hear.'"
There was no one to blame for the church's low attendance. People in Franklin County just weren't interested in religion, said Hall, who had attended years before on vacation when the Eastpoint church was meeting in Lee's house.
Isolated by location, the community remained mostly untouched by outside ministries.
Wayne Barrier, a member of the Double Springs Church of Christ, the northern Alabama congregation that supports the Eastpoint church, described Franklin County as a place around 80 miles west from Panama City and nothing north but pine trees. Hall, the adult class minister, calls it the Forgotten Coast.
However, that all changed when Hurricane Michael swept through the community in October 2018, wiping out roads and destroying buildings. Eastpoint — the lone Church of Christ in the county — became the main point of contact for Churches of Christ Disaster Relief Effort and a distributor for Federal Emergency Management Agency aid.
Soon, the church became known to the community for more than Sunday morning sermons.
"They met everybody in the community," Barrier said. "They got to know the local officials. They became really good friends with the sheriff of the county. It really raised the profile of the church."
'We took their spots'
It was during the hurricane relief efforts that the Johnsons met the Cooper family.
The family of eight had lost their home and belongings in the 2018 hurricane, and the Johnsons helped Thomas and Crystal Cooper furnish mattresses for the children's bunk beds after they found a mobile home.
Jenny began visiting the family on Sunday mornings to take the children to church. After about six months, Thomas and Crystal began attending themselves.
However, when the Apalachicola fishery closed in 2020, Thomas — like many men — lost his main source of income. To support their family, the couple began working on Sundays, but their children faithfully continued weekly attendance, riding along with Jenny in the morning.
The Coopers' children became Jenny's faithful companions every Sunday, particularly Lilly, 10, and Alexis, 11, who rode in the passenger seat.
"Lilly would sit right behind me in the middle of the seat, so she could lean forward and talk to us the whole time," Jenny said. "And Alexis would always want to know what the Bible story was and what it's about. And Lilly would say, 'Yes, and what is our craft today? Are we painting?' She loved to paint."
The Johnsons had just begun discussing baptism in the last few months with Alexis, Lilly and their teenage brother, Camron, when tragedy struck the Cooper family.
A fire, likely caused by a heating lamp, started around 1 a.m. on Jan. 21, burning the Coopers' mobile home to the ground and killing the two sisters. Thomas, Crystal and two of their other children who were present at the time — Camron and Bently — escaped.
"Camron is a hero," Crystal said. "He got us all out. He couldn't get to the girls, but he got his little brother out of bed and made sure he got out, and then he came and got us."
The family once again turned to the church for support.
The small Eastpoint community rallied, attending a prayer vigil led by Mike Johnson and donating what residents could — clothes, food and essential items — to the family.
The Johnsons began gathering monetary donations from numerous Churches of Christ across the nation, covering the $14,000 in funeral and burial costs. Further donations were set aside to furnish the Coopers' next home.
Since the fire, the couple has returned to the church with renewed interest, Hall said. Crystal especially has sought God in the tragedy. Mike Johnson said he expects to baptize her in the next few weeks.
"​​It's amazing right now, especially after she's lost her children, but it's helped her to want to learn," Jenny said. "'To be a good person' is how she put it. She wants to make it through with God."
But for Crystal, being baptized and growing in her faith in Christ is a simple choice.
"I need to make it to where my girls are," Crystal said. "We took their spots at the church and gotta make sure we don't miss because they wouldn't."
This article was originally published by The Christian Chronicle. It is reprinted with permission.