ECFA "State of Giving" Report Shows Pre-COVID Growth Continued in 2020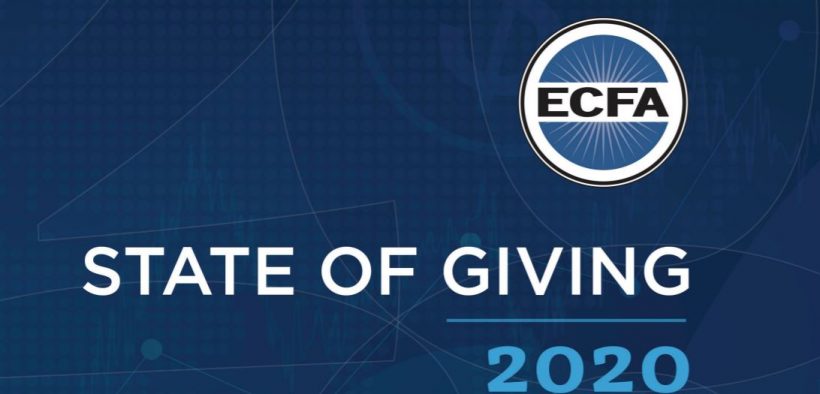 Giving to nearly 2,000 churches and charities affiliated with the Evangelical Council for Financial Accountability was $14.4 billion in 2018-2019, up 1.5 percent over the previous year, according to the new report, "State of Giving: 2020." When annualized over five years, there was a 2.5 percent increase in giving from 2014 to 2019.
"This good news continues a broader trend in which cash giving to ECFA members increased 9 out of the last 10 years," said the report.
The annual report doesn't cover 2020, with its COVID pandemic and the economic toll of shutdowns and unemployment.  However, a supplemental survey done of about 1,200 ECFA members provides preliminary evidence that the growth has continued.  The supplemental report, called "Defying the Odds," said, "Bottom line: Despite incredible challenges, 2020 has seen remarkable resiliency and significant forward motion among ECFA members and other like-minded ministries. We were impressed by their strong optimism that God will continue to provide the funding needed to fuel gospel-motivated ministry."
Ministries covered  in "Defying the Odds" report these developments in the first nine months of the year:
Almost two-thirds report cash giving that's higher or the same as 2019, but 52 percent reported decreases in other income.
Cash reserves have largely remained untouched, but may be needed in 2021.
Staffing levels remained stable, and may increase in 2021.
Income rose for all types of ministries except for one: evangelism ministry.
Access to MinistryWatch content is free.  However, we hope you will support our work with your prayers and financial gifts.  To make a donation, click here.
2019 trends
According to "State of Giving: 2020," the 1.5 percent increase in giving in 2018-2019 was greater than the 0.2 percent growth in 2017-2018, but growth in giving in both years was lower than the 2.5 percent five-year average. The report cited Trump administration changes to tax law as a major factor.
The report said, "Changes in the tax code have made charitable donations less appealing for many donors. Thus one factor that likely influenced giving was the major overhaul in the federal tax law, which dramatically reduced the number of taxpayers who itemize their deductions."
ECFA contrasted the 2018-2019 growth in giving to ECFA-member ministries with the lower 0.5 percent growth rate in religious giving reported by GivingUSA.
"Givers to ECFA members were more generous than givers to other religious segments," said ECFA.
ECFA has been releasing its "State of Giving" report since 2009. The 2010-2011 report was the only negative growth number in the decade: down 1.5 percent, while in other years giving has grown as much as 5.4 percent.