Despite Remaining Leaderless, SBC Executive Committee Says it Had 'Most Unified Meeting in Some Time'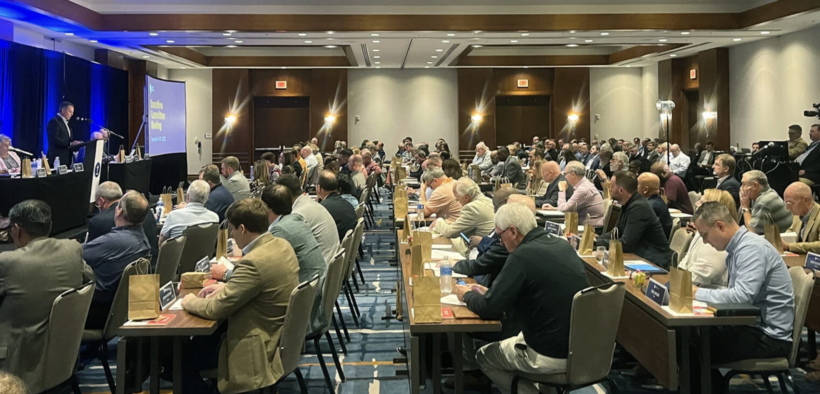 NASHVILLE, Tenn. (RNS) — The Southern Baptist Convention's Executive Committee lost another leader before he could even get started.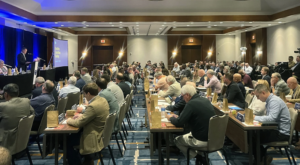 Meeting in Nashville, trustees from the Executive Committee had hoped to approve retired Kentucky pastor Dan Summerlin as interim president and CEO. But during an executive session Tuesday (Sept. 19), trustees learned Summerlin had withdrawn as a candidate.
Louisiana pastor Philip Robertson said Summerlin had come to the conclusion that "at this particular time, this job just might be a little bit more than he could handle."
During a news conference Tuesday, Robertson read a statement from Summerlin.
"Upon further reflection it has become evident that what is best for the convention and for my family is to withdraw my name from consideration at this time," Summerlin said in the statement.
Summerlin would have been the committee's sixth leader in the past five years and his withdrawal marks the second time this year that a nomination for leader of the Executive Committee has fallen apart. In May, a search committee had nominated Texas pastor Jared Wellman, a former committee chair, as the permanent president. But a vote on Wellman failed the same month.
The committee has been without a permanent leader for two years, ever since former Arkansas megachurch pastor Ronnie Floyd resigned as CEO and president after a fierce battle over how to conduct an investigation into the SBC's handling of sexual abuse.
Willie McLaurin had been serving as interim CEO but resigned last month after admitting he had falsified his resume. The fraud was discovered while McLaurin was being vetted as a candidate for the permanent role.
Robertson, chair of the committee, reported that after an internal investigation, trustees had decided to take no legal action against McLaurin at this time.
"Based on the findings from the internal investigation, while it is clear that Willie McLaurin engaged in both academic and professional fraud during his tenure with the Executive Committee, no evidence was found of financial wrongdoing or direct harm to the Executive Committee," according to a committee statement.
Access to MinistryWatch content is free.  However, we hope you will support our work with your prayers and financial gifts.  To make a donation, click here.
The committee also reached a confidential separation agreement with McLaurin. Robertson declined to discuss any details of the agreement, including possible financial compensation, citing HR concerns. He did say that in general, separation agreements can be helpful in cases like this.
Robertson also told trustees that the officers, who deal with human relations matters, had adopted a new vetting process for leaders, including verifying academic credentials, past employment and military service, and any professional licenses.
After an extended executive session, Robertson also announced that Matoaka Baptist Church, Ochelata, Oklahoma, had been "deemed not in friendly cooperation with the Convention based on a lack of intent to cooperate in resolving concerns regarding discriminatory behavior on the basis of ethnicity."
Earlier this year, photos of the pastor of Matoaka Baptist Church in blackface and impersonating the late Ray Charles reportedly surfaced, prompting outrage. According to television station KTUL, the pastor defended the photos and was unapologetic.
The SBC removed a Georgia Baptist church for similar reasons in 2018.
Despite the troubles of the Executive Committee — and the uncertainty over its leadership — the tone of the meeting was markedly different from earlier meetings that had been characterized by tension and sometimes open conflict.
Both Robertson and SBC President Bart Barber said at the news conference that trustees seemed united in their desire to work together and address their current challenges. Barber called it the "most unified meeting in some time."
Barber added that many Southern Baptists have experienced complicated leadership transitions at their local churches — and that affects how they view the Executive Committee.
"Sometimes you go through difficult times," he said. "Sometimes you have more problems than you have in a usual period of time. It doesn't mean that you quit."
In other business, trustees declined a request that they explore the possibility of holding the denomination's 2028 annual meeting on the island of Maui. The request, made by a local church messenger during the 2023 annual meeting to loud applause, was deemed impractical.
Instead, plans call for the meeting to be held that year in Indianapolis.
They also discussed the possibility of selling the committee's office building at 901 Commerce Street in Nashville. That area of the city is undergoing a major redevelopment — with construction traffic currently making it difficult for the trustees to meet at that location.
Adam Wyatt, the Mississippi pastor who chairs the finance committee, said that selling the building is being discussed and the committee is working with a listing agent. But selling off the building doesn't solve the committee's fiscal problems, he said.
"It's the only asset we have," Wyatt said. "And getting rid of the only asset we have when we still have long-term challenges that we can't quite quantify is something that we also have to consider."
Any proceeds from a sale would also have to be split with other SBC entities, who own a stake in the building.
Trustees also approved a new code of conduct for the committee — prompted in part by public conflict among trustees in recent years over how to respond to the denomination's abuse crisis.
The code of conduct required members to be a "role model in judgment, dignity, respect, speech, and Christian living" and to "maintain a biblical lifestyle at all times." The code also requires members to refrain from criticizing the committee on social media — though trustees struck a clause that would have barred them from criticizing committee leaders on social media.
Main photo: The Executive Committee of the Southern Baptist Convention meets Monday, Sept. 18, 2023, in Nashville, Tenn. RNS photo by Bob Smietana