Current and Former Staffers Call for Change at Orlando's WPOZ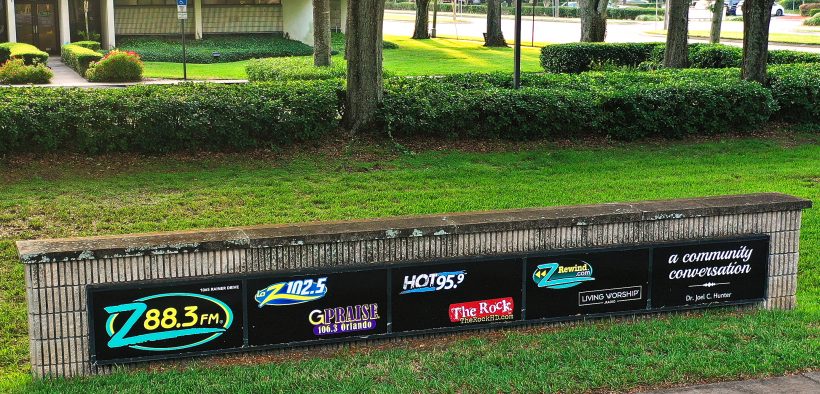 It's been a tough couple of weeks for one of Christian radio's best-known stations, Z88.3 WPOZ in Orlando.
Known as "The Z," the station left many people in the Christian radio industry scratching their heads a couple of weeks ago when the station's President and Founder Jim Hoge planted a false story with an industry publication in a failed effort to keep another Christian station from competing against it.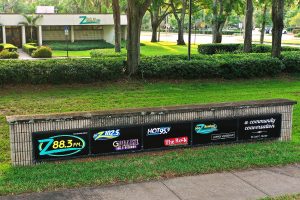 That episode and other recent events have motivated more than a dozen current and former employees at The Z to go public with their complaints of a toxic work environment there, and some are calling for the resignation of Hoge as president.
Joel Hunter's Intervention
Some long-time employees say Hoge is, in many ways, a visionary leader.  He founded WPOZ more than 25 years ago.  Under his leadership it grew it into a family of stations that have a combined revenue of more than $5-million a year.
However, that hard-charging style has also been hard on his staff.  More than a dozen current and former staff members have spoken to MinistryWatch about both their love for the ministry, and the difficulties they have had working there.
One of those is Cindy Simmons.  She joined The Z in 2018 as an on-air personality and quickly developed a following with her outgoing manner.  Some of her co-workers at The Z who called a "Joy Bomb."
"I'm upbeat and positive," Simmons said.  "That's who I am."
But after about six months on the job, her sunny outlook was put to the test.  "I began to see a leadership style I had never seen before, not even in secular radio," Simmons said.  Simmons said Hoge would belittle staff.  She said he repeatedly yelled at her for mentioning Orlando's biggest tourist attraction, Disney, on the air.  However, Simmons said it was tough for an Orlando station that was speaking into the Orlando community to make no mention of Disney.  She also noted that the station was also doing promotions with the huge amusement park.
Simmons confided in her husband, but had not spoken to anyone else until one Sunday at church, when her husband insisted that she talk with their pastor, Renaut van der Riet.
"She told me a disturbing story," van der Riet said.  "She said Jim [Hoge] was an overbearing and abusive boss.  She said the environment was damaging her emotionally.  That it was really bad."
Access to MinistryWatch content is free.  However, we hope you will support our work with your prayers and financial gifts.  To make a donation, click here.
Van der Riet was unsure about what to do with the information at first.  "I didn't know [Cindy] all that well then," he said.  "I pastor a large church and manage a staff.  I knew that when you have only heard something from one person it's always possible it's just their personal experience."
But several other station staff were also members of his church, and van der Riet quickly came to the conclusion that he had a pastoral responsibility to the members of his church, as well as a responsibility to Hoge and to the Christian community.  "I love The Z," van der Riet said.  "It has a huge and positive impact on the community.  I want nothing more than for it to succeed."
Van der Riet reached out to a few of his friends at The Z.  When he did that, Hoge asked for a meeting with him.  Van der Riet immediately agreed and shared with Hoge what he had heard.  Hoge denied there was a problem.  But van der Riet could see even in that initial meeting some of the behaviors Simmons and the other Z staffers had mentioned to him.  "He raised his voice at me, too," van der Riet said.  "He accused me of lying and attempting a hostile takeover of the station."
In a brief interview with MinistryWatch, Hoge repeated the accusation that van der Riet was attempting a "hostile takeover" of the station.  However, van der Riet denied that.  "I'm the pastor of a large church, I have eight children.  The last thing I need is to be involved with a radio station.  I got involved purely to help Jim, the ministry of the station, and the members of my church."
After that initial meeting between Hoge and van der Riet, Simmons said Hoge called her and "screamed at me and said I tattle-taled to my pastor."
Despite that rocky start, Hoge agreed to allow Joel Hunter to interview the staff of The Z, and to present the findings to the board of directors.  Joel Hunter had served for more than 30 years as the pastor of Northland Church, one of the largest evangelical churches in the country, and a church many of The Z's staff had attended over the years, including Jim Hoge himself.
"Joel was trusted by the staff, and he was trusted by Jim," van der Riet said.
Hunter interviewed a large majority of the staff in January and February of 2020.  MinistryWatch tried to interview Hunter for this article, but he refused, saying in an email, "I was never employed by the Z and only acted in the capacity of a pastor at times. As such, all of my conversations were/are held in ministerial confidence.  It's a great ministry, but I do not talk about any organization of which I am no longer a part."
However, nearly a dozen current and former staff members who spoke to Hunter told MinistryWatch that they were direct with Hunter about their concerns.  They described a "toxic" work environment in which people were afraid of Hoge, who was known to belittle staff members.
One former staff member, Tate Luck, is blind and – according to several staff members – a large man.  At a staff meeting, Hoge once told Luck to sit on the floor because he "breaks all the chairs."  Hoge eventually purchased Luck a rolling chair and made him roll it around the office so he would not use the chairs intended for the rest of the staff.
In a phone call with MinistryWatch, Hoge denied telling Luck to sit on the floor or saying that he broke chairs.  Station manager Dean O'Neal, the Vice President and Director of Operations was on one of the calls and he, too, denied the story.
However, several staff members confirmed the story, and at least a half-dozen staff members confirmed that Luck had an oversized rolling chair that he was required to roll from room to room while in the office.  Tate Luck eventually left the station, and would not comment for this story.  Sources inside the radio station say he received a financial settlement in exchange for signing a non-disclosure agreement.
These stories were a part of Joel Hunter's report to the station's board of directors in February 2020.  Carter Kenyon, who has served as both a board member and is currently the Director of Ministry Advancement, attended the meeting.  He said, "Joel made it clear that change would be up to us, not him.  He was presenting the results of his interview, and it would be up to the board and Jim Hoge to act."
At that time, the board had only five members:  Hoge, three station employees who reported to Hoge, and Dwight Bain, a respected counselor and executive coach.
Carter Kenyon said he was impressed with Joel Hunter's presentation to the board.  Hunter said he was not reporting to the board those things he heard only once from a staff member, but only those things he heard repeatedly from many staff members.  Hunter then went on to discuss the work environment, which Kenyon said he described as "toxic" and characterized by "fear of Jim."
According to Kenyon, Dwight Bain was the only person on the board who stood up to Hoge that day.  But Hoge dismissed the report.  "He said it was not valid," Kenyon said.  "He called it a hostile takeover."
Hunter tried to assure Hoge that it was not a hostile takeover, or a takeover of any kind, but an attempt by those who love the ministry to help it take corrective action.  According to Kenyon, "Joel said, 'If you don't deal with these issues, they have a way of finding the light of day.'"
After the meeting, Dwight Bain resigned from the board.  According to Kenyon: "Once he stood up to Jim, it was over for Dwight.  Sad, because Dwight was someone who would come once a month and do a biblical-based lunch-and-learn with our staff.  At the end of the day, nobody is safe that stands up to Jim."
Dwight Bain did not respond to MinistryWatch's repeated requests for an interview.
Following Matthew 18
Randy Woods is currently the Director of Technology for New Hampshire Public Radio.  But from 2002 until he resigned to take that post in 2019, he worked for Z Ministries.  Woods sent MinistryWatch more than 25 single-spaced typed pages documenting examples of Hoge's behavior, behavior he described as sometimes merely frustrating, but other times abusive.  Woods was one of many staff members who confirmed the story of Tate Luck's chair.  "Jim bought him a chair and asked him to move it from room to room," Woods said.
Woods also said he was not surprised that Joel Hunter's efforts to bring reform to Z Ministries did not work.  "Joel was compromised," Woods said.  "At the time, Joel's ministry was receiving free rent for his ministry."  Woods also cited the fact that Dwight Bain was the only independent board member as another reason he "had very little faith that process would work."
Another reason he felt the process would not work, and a key reason he left Z Ministries after working there for seven years as a volunteer and another 17 years as an employee:  Woods had worn himself out trying to get Hoge to change, to no avail.  "I participated in Matthew 18 processes many times with Jim," Woods said.
Woods believes the Founder's Protection clause in Z Ministries' bylaws (which MinistryWatch wrote about here) made Hoge's behavior worse.  Woods recounts an exchange he had with Hoge in October of 2018.  After a week of conflict and tense relations, the two had a meeting in which Woods brought up the Founder's Protection clause by saying, "Nobody can fire you."
Hoge responded, "You're right."
Woods said, "That is not something to be proud of."
Hoge answered, "I am proud of it."
Woods believes that this attitude is why the station has its current "toxic" environment, and is why he ultimately left the station and is now speaking out.  A number of current and former staff members said they would normally not feel comfortable about speaking out to the media, but the failure of Joel Hunter's attempts at reconciliation, plus a lack of appropriate board oversight ultimately compelled them to speak.
Suzanne Cheesman, who worked at Z Ministries from 2011 to 2018, said, "Our only intention is to reveal the truth, stop the abuse that's been hidden for years, and to save this important ministry."  We know the impact this publicity might have on donors and listenership.  However, we believe that allowing this cancer to continue to spread and grow would cause far more damage in the long run."
A Growing Chorus
Simmons, Kenyon, Cheesman, and Woods are not the only ones speaking out.  Jim Davis is the Underwriting Coordinator/Traffic Coordinator for the station.  He has also been an on-air talent and continues to do voiceovers and editing.  He said Hoge's deceptive attempts to get The Joy FM to abandon its plans to enter the Orlando market was a tipping point for him.
"I felt he was lying, that he had no intention of switching our format or our name," Davis said.  "Even worse, he was asking us to go along."  Davis said that the net-effect of that episode was that "he has taken us to a new level of low.  We're a laughing-stock in the industry now."
Davis added that some of the things Hoge did that demoralized staff were not, arguably, wrong, but "just weird."  He cited an example: "Jim was on a big kick to get all the employees to put a Z bumper sticker on their car.  This was just prior to the annual holiday bonus that we traditionally get.  He had made a statement that any employee who did not put a bumper sticker on their car would not receive a bonus.
"I was one of the people who had not yet done it.  He came into our office and put two bumper stickers on my desk and stood over me, crotch in my face, just waiting for a reaction.  It was extremely awkward.  I can't recall him saying anything, but the insinuation was that he was trying to intimidate me into getting up and putting the sticker on my car.  Just an example of his very odd behavior."
Several employees, including Cindy Simmons, said that the work environment became so unpleasant that they had symptoms akin to PTSD.  "I was upset for months afterward," she said.  "It was the most bizarre work experience of my life."
One employee, Stephanie Landsman (known on the air as Mia Taylor), said her experience at The Z contributed to a breakdown last summer that resulted in her spending 10 days in mental hospital on suicide watch.  Part of her treatment called for her to spend another four weeks in a recovery program.  She said that during that time, Hoge called her doctor and would call her husband Larry at work, attempting to get her to come back to work before her course of treatment was complete.
Larry kept the text messages they exchanged while Stephanie was recovering, dozens of them, and he shared them with MinistryWatch. Larry texted Hoge, after Hoge complained that Stephanie's absence had left the station short-handed: "Stephanie has a nervous breakdown.  She sought treatment and now needs time for recovery."
Hoge texted back, "I gave you the week she was in the hospital as she had no sick days and one day of vacation."
Larry responded, "Jim, Stephanie had to be rushed to the hospital.  Whether you were gracious enough to 'give' her the time off or not, she needed to be hospitalized and you would have been out of coverage regardless."
Hoge: "You miss the point.  One plans for the unknown.  This has left you guys in a lurch because you burn through every dollar and benefit with no regards for disaster."
In an interview with MinistryWatch, Landsman said she is better now, and she no longer has suicidal thoughts, but she is still hurt that Hoge tried to get her back to work before she was ready, and that he made the comments he made about their personal finances and other matters.  She returned to work last October, but she said it is still stressful at The Z.  She said she is speaking out rather than just quitting because she loves the ministry, but she wants it to get better.  "I'm pregnant now," she said.  "I don't want to lose my baby."
So she recently quit, for her own mental health and for the health of her baby.  Friday was her last day as an employee of The Z.
"Christian Radio, We Can Do Better"
Carter Kenyon says there are a lot of great people, and even great leaders, working in Christian radio today.  And he says – after more than 20 years in the industry – he still strongly believes in the mission of Christian radio.
But he also says that the industry has problems.  He says leaders like Jim Hoge are too common in Christian radio, and employees who work for them "are constrained by fear."  He says they use excuses like this: "Think of all the good this ministry does, how many people it helps.  If you don't like how people are treated, just leave.  Why would you say something and hurt the ministry."
Kenyon said the "tipping point" for him came when Hoge sent his now well-known April 16 email that, according to Kenyon, "attempted to execute an elaborate ruse that involved lying, unethical business practices, and organization-wide intimidation.  All to sabotage a fellow CCM [Contemporary Christian Music] station looking to move into the Orlando area."
He added, "Before working in Christian radio, I spent nearly 20 years in the corporate world.  I had never seen anything like this.  I wouldn't expect such a level of bold-faced depravity and duplicity in even the most secular companies.  To think that this came from an organization that claims the Gospel of Christ is infinitely more shameful."
Kenyon believes that Christian radio needs a "Reformation."
"We have the choice to refuse to tolerate abusive and unethical behavior," he said.  "Because, frankly, our donors, listeners, and supporters certainly won't tolerate it.  But most importantly, our God won't tolerate it.  We will have to take a stand and take an account for choices and our individual stewardship."
Jim Hoge initially talked with MinistryWatch, but after we published two articles on The Z and his leadership there, he stopped responding to our requests for subsequent comment.  He sent this statement instead, which we publish in its entirety:
Non-profit organizations must still operate according to the same business practices as for-profit businesses to ensure growth and sustainability.  We stand by our history as a responsible and properly managed company that has earned a strong and loyal Christian audience as a result.
Your continued efforts to portray our business practices as unethical are driven by your willingness to sensationalize your narrative with false information and misrepresentations from others with their own agendas. You clearly ignore the verifiable facts we have provided in prior conversations and for those reasons we will no longer respond to your inquiries.
However, Renaut van der Riet has a different perspective.  He said, "It grieves my heart when I come across a leader that has had multiple interventions and opportunities to face their deficits and to face them, to learn and to grow through them. When you see a leader that ignores, excuses, pretends, and buries the truth, it does not bring glory to God nor does it do any good for the gospel. It leaves the people under them in the awkward position of joining the pretense with the noble, but misguided idea that guarding the public from what's truly behind the curtain is actually guarding the gospel. The trouble is it doesn't guard the gospel. We must do a better job exposing this kind of pretense and leadership abuse or the world is proven right to call the followers of Jesus hypocrites."