Christian Nonprofits in San Francisco Adapt to Serve the Homeless

City's official coronavirus policies tend to incentivize destructive behavior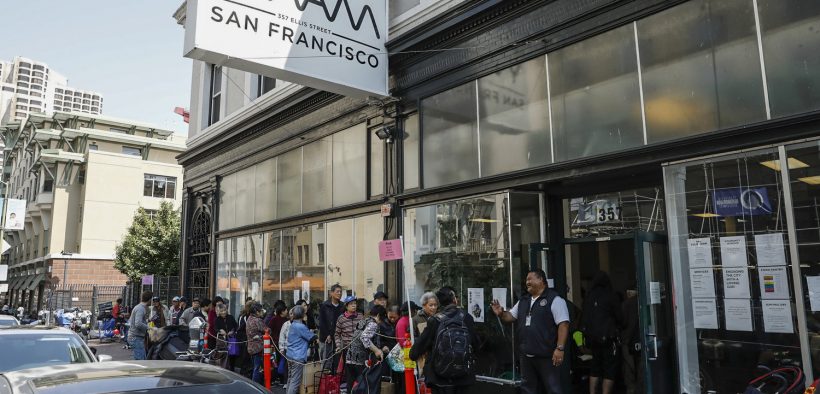 Tensions continue to rise in San Francisco, where the COVID-19 pandemic has exasperated the challenges of an already overflowing homeless population. While Christian ministries struggle to serve the community, city officials scramble to come up with solutions that don't incentivize destructive behavior.
San Francisco's shelter-in-place guidelines took effect mid-March, leaving some of the city's 9,000 homeless people without a place to go as homeless shelters tightened their numbers to comply with social distancing requirements. To ease the strain, city officials encouraged the homeless to camp out on neighborhood streets. Tents were handed out, some by local organizations and businesses, others by neighborhood officials.
Those tents now cram the streets of poor neighborhoods like the Tenderloin, where the number of tents within its 35 blocks has swelled to around 400—more than a 200 percent increase, according to The Guardian. Feces, needles and trash dot the landscape. Drug sales take place in the open.
Residents and business owners say they don't feel safe walking outside, prompting some to join with Hastings College of Law, located in the neighborhood, to file a lawsuit against the city. The complaint, filed May 4, claims the city is using the Tenderloin as a "containment zone," allowing "open-air drug sales and other criminal activity."
"This is a matter of fundamental fairness," the suit says. "What is a city-wide problem should not be allowed to weigh disproportionately on a low-income working-class neighborhood."
Meanwhile, Christian ministries adapt to serve the needs of their communities. YWAM San Francisco has worked in the Tenderloin since 1995. They offer shower services, which they've expanded to 20 showers a day during the pandemic. Team members bleach surfaces after each shower and provide hygiene kits and socks. On Thursdays, the team hosts a weekly food pantry.
"A lot of this community, it's like they live with each other," says staff member Steve Binnquist on a video posted to the group's Facebook page. "Their living room is on the street." He says the pandemic has added another layer of fear to an already fragile neighborhood dynamic that deals with homelessness, substance abuse and addiction.
The same day Hastings and Tenderloin residents filed their lawsuit, the city offered a revised COVID-19 plan. It recommended safe sleeping alternatives for the homeless, more police presence, and health resources like handwashing stations.
But Hastings said in a response that the plan essentially masks the problems instead of clearing the streets and housing the homeless.
Some say the solution is to provide hotel rooms for the homeless and vulnerable, while others cite concerns about mixing isolation, addiction and mental illness. The city so far has acquired more than 2,300 hotel rooms and RVs, but less than 1,300 are occupied, according to DataSF. The San Francisco Department of Public Health is providing free alcohol, tobacco, and other drugs as part of its "harm reduction therapy" for those who stay in the hotel rooms and identify as addicts, claiming it helps users stay in quarantine and prevents "hospital care for life-threatening alcohol withdrawal."
All in all, Christopher Rufo, director of the Discovery Institute's Center on Wealth & Poverty, told WORLD the city's approach to homelessness is "all compassion and no responsibility."
Local ministries within the city are also extending compassion while also sharing the gospel. CityTeam San Francisco has continued its residential men's program, despite discontinuing volunteer shifts. They have also more than tripled the number of food served through their distribution programs.
The executive director of CityTeam San Francisco, Christian Huang, founded a fleet of mobile food trucks called Mobilize Love to deliver hot meals, groceries, and hygiene supplies to residents in need throughout the city.
The work has been made harder by the coronavirus pandemic, and not without its risks. Nearby, at Bay Area Rescue Mission, located northeast of San Francisco, chaplain Wayne Earl told WORLD he was preaching at a chapel service when one of the residents began coughing uncontrollably. Earl says he stopped the service and helped the man find a mask and get an ambulance. The man tested negative for COVID-19, and when he returned to the mission, he said he became a Christian. "I was absolutely humbled by the Spirit of God moving here," Earl said.
The homeless crisis in San Francisco, made more urgent by the pandemic, is ongoing. The city opened a "safe sleeping" site last week on a city-owned parcel in Haight Ashbury where an old McDonald's once stood. The site accommodates 43 tents, is staffed 24/7, and provides food and other sanitary resources like hand washing stations. Residents in the neighborhood are pushing back with its own lawsuit.
As the city searches for political solutions to a human problem, Christian ministries in the area continue to offer nonpolitical services—compassion stemming from the gospel. As someone with a home and the means to buy his own food, YWAM's Binnquist said it's his responsibility to find ways to help. "This is my neighborhood and my neighbors are hurting, and my neighbors are losing services," Binnquist said. "It's my responsibility to figure out how to love my neighbor and serve my neighborhood."