Christian Higher Ed Courses in Prisons Continue, Adapt Amid COVID-19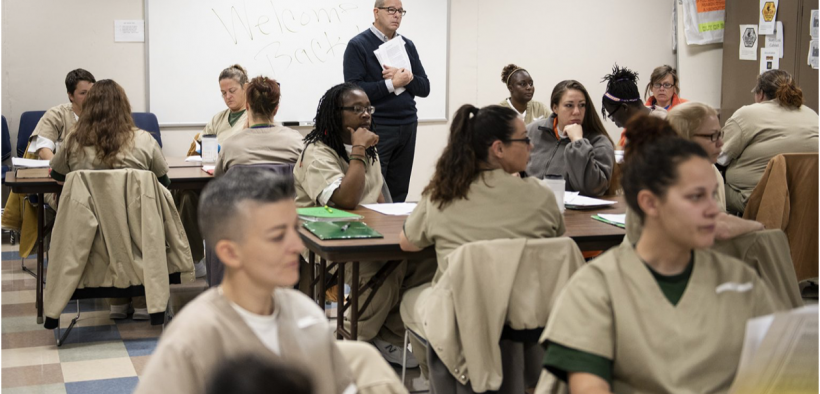 At North Park Theological Seminary, an evangelical school in Chicago, faculty opted for pen-and-paper classwork to continue courses for inmates during the COVID-19 pandemic.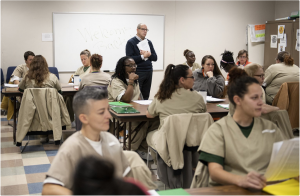 At Rockhurst University, a Catholic institution in Missouri, the president tried new technology that enabled him to co-teach a "Human Geography" virtual course with prisoners at the Chillicothe Correctional Center.
And faculty of New Orleans Theological Seminary's Leavell College, a Southern Baptist school, have taught socially distanced students at the Louisiana Penitentiary in Angola, standing some 20 feet away from the closest prisoner.
Despite the elimination of most prison visitations for many months of the COVID-19 pandemic, some religious higher education institutions have found ways to stay connected with prisoners.
The pandemic has caused a "lockdown on top of the lockdown" for many incarcerated students, said Vickie Reddy, assistant director of North Park's School of Restorative Arts and an "outside student" in its first cohort.
Access to MinistryWatch content is free.  However, we hope you will support our work with your prayers and financial gifts.  To make a donation, click here.
"Many of them have had long lockdowns, but not like this. So it really has taken a mental health toll beyond the trauma that's already there," Reddy said.
North Park, which is affiliated with the Evangelical Covenant Church, began piloting courses inside the all-male Stateville Correctional Center, a maximum security prison outside Chicago, about five years ago, according to Michelle Clifton-Soderstrom, director of its School of Restorative Arts.
Within three years, it had launched a program offering a master's degree in Christian ministry and restorative arts, including courses in theology, history, and pastoral care alongside race relations, healing from personal trauma, and mobilizing for justice, Clifton-Soderstrom said. Its first cohort, set to graduate in 2022, includes about 38 students both inside and outside the prison who have met weekly at Stateville, sharing meals between classes.
North Park was ready to launch its first cohort for women at Logan Correctional Center several hours south of the city when the COVID-19 pandemic put prisons on lockdown and pushed pause on outside visitors and programming.
At Stateville, two students died from COVID-19 early in the pandemic, Reddy said.
Inside, students have largely been quarantined in their cells for months on end, she said. They haven't seen each other, not to mention outside students or instructors from North Park.
"It's only just started to open up," she said in mid-April.
Still, classes have continued at Stateville, with Reddy compiling individual packets of materials from instructors and dropping them off at the prison each week. She then returns to pick up students' completed assignments, scan them and send them back to instructors.
North Park has organized the students into small groups, too, helping them stay connected with each other inside the prison and with those outside by exchanging correspondence.
Without study halls, inside students have completed their assignments hunched over bunk beds too small to allow them to sit upright or sitting on toilets in their shared cells, according to Reddy. They don't generally have access to computers or to the internet in the best of times, she said, much less in lockdown.
"It's remarkable," she said. "And there's no concession…There's no, 'OK, we'll go easy on you because you're in prison.' It's a full load and they have high expectations."
Within the last three weeks, she said, students and instructors finally have been able to meet over Zoom, nine students at a time from the same housing units, all distanced and masked. Reddy called it a "game changer"—one small step to reopening.
One student has described the program as the "prison to school pipeline," a play on the so-called school to prison pipeline, she added. For many inside students, it's a pathway not only out of prison, but also out of the cycle that brought them to Stateville in the first place.
At Rockhurst University, a Jesuit school in Kansas City, President Thomas Curran said he was determined to keep its college-credit courses going at Chillicothe Correctional Center without using the correspondence course option.
After consulting with the school's information technology department, Rockhurst revamped its courses for the incarcerated students Curran calls "companions." Using eye-ball cameras, Zoom and a big-screen television, he taught them about the interaction of human beings with their environment.
Eighteen students, 6 feet apart and masked, watched him on the screen placed in a large room in the prison, a two-hour trip from the university. In the past, faculty usually drove to the prison to teach in person.
"Until we could come together, physically, what are the ways to remind us of the need for that solidarity. What are the ways to link us?" he asked. "And that's how I used technology to do that. So it's a kind of a bridge to where we need to return."
Curran said he hopes the "breakthrough" in keeping the course going can lead to a hybrid approach to learning with classes in person and via Zoom for students at Chillicothe and Rockhurst. So far, the inmates—along with a separate group of correctional officers—have completed 31 college credits toward an associate's degree.
Kimberly Herring, deputy warden of operations at the prison in northern Missouri, said the program generally helps build self-worth but was especially beneficial for the offenders amid the isolation that accompanied COVID-19.
"The Rockhurst program allowed them to feel a connection to some sense of reality and 'normal' and allowed them to continue working toward their goal of improving their lives," Herring said in a statement.
Across the country, there are roughly 300 higher education programs in prisons, both religious and nonreligious, according to Lois Davis, a senior policy researcher at the nonprofit Rand Corp.
Each one has grappled this past year with whether to allow outside instructors into prison facilities to hold classes as states have taken action to slow the spread of COVID-19, Davis said in an email to RNS. Some facilities ceased or substantially cut back on programming. Some educational programs suspended classes until they can be held again in person, while others found ways to adapt, such as videoconferencing.
One study by Rand found that incarcerated people who participated in those kinds of educational programs had 43 percent lower odds of recidivating than those who did not.
Such programs have their root in religion: Clergyman William Rogers is credited with starting the U.S. correctional education movement when he taught inmates in a Philadelphia jail in 1789.
And they are something "all of higher education can embrace," Council for Christian Colleges & Universities President Shirley V. Hoogstra said in a written statement marking April as Second Chance Month. She pointed to the positive effect such educational programs have on prisoners, their families, and their communities, as well as Jesus' words in Matthew 25: "I was in prison and you came to visit me."
"An education recognizes the God-given dignity of all individuals. It provides a fresh start. And it provides the confidence to face a new future and look candidly at the past," Hoogstra added.
Rick Sharkey, senior chaplain at the maximum security prison in Angola and director of the New Orleans seminary's extension center on the prison grounds, said classes were canceled in March 2020 and started again in November, with the next semester beginning in January. Since the reopening, a masked professor has visited weekly, standing in an auditorium and teaching students—also wearing masks—in classes on subjects including church history, English composition, and introduction to ministry.
The program, which dates to 1995 and has 368 graduates, currently includes 68 undergraduates and 45 graduate students.
Sharkey said that even when Angola inmates couldn't be taught due to the pandemic, there were already trained ministers among them. More than 200 inmates—mostly taught through the seminary's program—are leaders of dozens of churches among the prisoner population of about 5,100.
"The spiritual needs of the men were still being met by the inmate ministers that were all throughout the prison," he said. "That's exactly what the purpose of the school is all about: preparing men for ministry and strengthening the churches that are inside here."