Christian Camps, Including Kanakuk, Look Forward to Near-Normal Summer

Summit Ministries, Young Life among those who've announced 2021 plans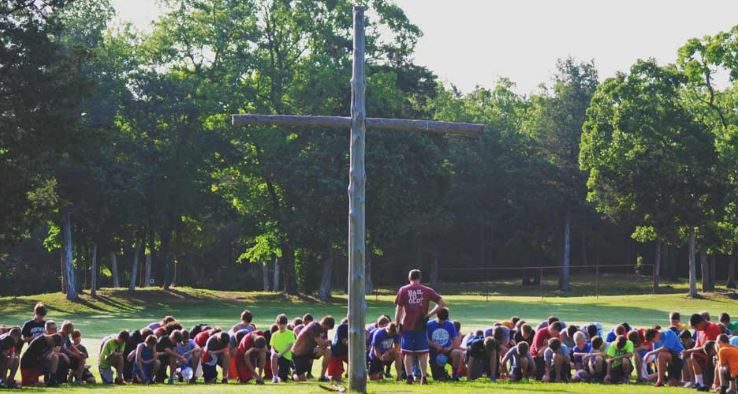 After the bummer summer of 2020—when COVID caused many Christian camps to limit or cancel sessions, and three Christian camps spawned major outbreaks—most are looking forward to 2021 as a chance to return to normal, or something like it.
"There are going to be more happy campers this summer as more camps choose to reopen," said an Associated Press story reporting that so far, 45 states are allowing camping this summer, an increase from 39 last year.
This week the Christian Camp and Conference Association released a survey from its 843 member camps, which prior to 2020 hosted as many as five million campers a year.
"Ninety-eight percent of those responding say they will be opening this summer, and many have already opened registration," said Gregg Hunter, CCCA's president/CEO. 
"I expect the rebound for camps to be powerful, and I am convinced that families and kids need camps – perhaps now more than ever," Hunter said. 
"All of the fun, adventure, mentoring and spiritual enrichment will be delivered, while changes will be made by individual camps to reflect local guidelines and requirements for camper safety and infection prevention."
Access to MinistryWatch content is free.  However, we hope you will support our work with your prayers and financial gifts.  To make a donation, click here.
Hunter said most CCCA camps suspended operations in the Summer of 2020, while some operated at limited capacity with guidance from the Centers for Disease Control. Since then, CCCA has provided training on best practices, CDC recommendations, and local guidelines. And many camps have embraced a cohort model for smaller camper groups, pre-camp testing and screening. Some member camps have made structural changes to their properties to reflect recommendations from environmental and health agencies.
The American Camp Association, which serves 15,000+ camps attracting 26 million campers released its own survey last week saluting its members' response to the challenges of 2020 and touting camping's impact on the social-emotional learning kids have been missing.
"Last summer's mitigation practices highlight the necessary foundation for a successful 2021 camp season. Our new research demonstrates that children can be with their friends and counselors and take a break from technology this summer. In fact, camp provides critical support for children as they recover from the challenging effects of the pandemic in a safe environment away from home," said Tom Rosenberg, ACA's president/CEO.
Christian camps had two of 2020's biggest outbreaks
While most camps operating in 2020 had few COVID cases, four had major outbreaks, with a YMCA camp in Georgia setting an unenviable record. Doctors who tested 344 of the 597 people who attended the camp found that 76 tested positive for the virus.
Christian camps were responsible for three major outbreaks with 80-100 victims.
MinistryWatch previously reported on a Christian camp hosted by Fellowship Church, an evangelical megachurch in Grapevine, Texas, that was responsible for more than 100 cases.
Kanakuk Kamp operates six facilities in Missouri that typically host 20,000 young people. The Kanakuk Kamp near Branson had at least 82 positive COVID cases.
Kanakuk did not respond to a request for information about its plans for 2021, but its website is offering a wide range of options, some of which are already sold out. 
A web page about COVID-19 says, "The health and safety of our Kampers is our #1 priority," but does not acknowledge the 2020 outbreak.
The page says the camps have "strengthened our standard cleaning procedures" and "taken measures to monitor and address symptomatic Kampers by daily temperature checks and protocols to isolate, confirm, respond, and remove any Kamper or staff member with suspected COVID-19." 
The other major outbreak was at three Texas camps operated by Pine Cove, which typically hosts some 40,000 campers in Texas and South Carolina. Pine Cove self-reported more than 100 cases, but does not acknowledge the outbreaks on its website.
A link on its website called "Worry-Free Camping" contains an additional link for  people concerned about COVID. "Safety is Our Top Priority," it says. "As parents, we want you to understand the rigorous efforts Pine Cove is taking toward protecting the health of your child." Pine Cove says its "multiple physicians and over 300 nurses during the summer in two states across three camps" will keep kids safe.
Camps adapt different approaches
Summit Ministries says 2021 will be the second straight year with no students attending Summer conferences at its historic hotel in Manitou Springs because its cramped bedrooms, big dining room, and main lecture room run afoul of three different Colorado regulations covering overnight youth camps, commercial dining, and conference centers.
Instead, Summit announced this week that, after strategizing in advance about how it would handle four different summer scenarios, it will be taking five sessions on the road at Arizona Christian University, Covenant College in Georgia, and Anderson University in South Carolina, all located in states where rules are less stringent.
After going all-virtual in 2020, Summit is also hosting two 2021 virtual summer sessions, with discounted rates through March.
Dustin Jizmejian, Summit's Vice President of Program, said ministry donors helped it invest in the technology and personnel needed to give its virtual sessions the feeling of interaction and fellowship that characterize its in-person sessions.
"We had a big brainstorming session about what makes Summit unique, and our DNA is truth and relationships," said Jizmejian. "The challenge is how do we do that relationship part virtually, because content is the easy part."
Summit is answering the challenge by trying to maintain a personal touch with virtual students and doubling down on interactivity between students and the teacher through discussion groups and other methods.  
In 2019, more than 1,500 young people attended Summit's 12-day student conferences in Manitou Springs and two other locations. In 2020, it reached 900 students through six virtual conferences, including foreign students who couldn't afford travel to the U.S.
The international youth ministry Young Life had 93,000 campers in 2019, including 3,300 young people whose camping experiences were managed by their local Young Life area, rather than at a Young Life camp.
Young Life was anticipating 60,000-70,000 young people to attend events at its 22 U.S. camp properties and other facilities in 2020. But on April 9, the ministry announced it was suspending "any U.S. ministry activity involving person to person contact out of an abundance of caution and care for our staff as well as kids and their families."
Only 15,000 guests enjoyed a Young Life camping experience in 2020, said spokesman Gabe Knipp, with approximately 9,000 of these camps managed by their local areas.
"This year, we have had requests for 61,000 guests to visit Young Life camps," said Knipp. "We are hopeful that COVID-19 caseload continues to decrease and we can expand our operational capacities, giving more kids a chance to experience Young Life camp with their Young Life leader this summer."
Knipp said Young Life will not be serving guests at Malibu Club in British Columbia, due to international border closures, nor at Woodleaf in northern California, but all other U.S. camps will be open and operating at capacities as directed by local health departments.