Cedarville University Places President on Administrative Leave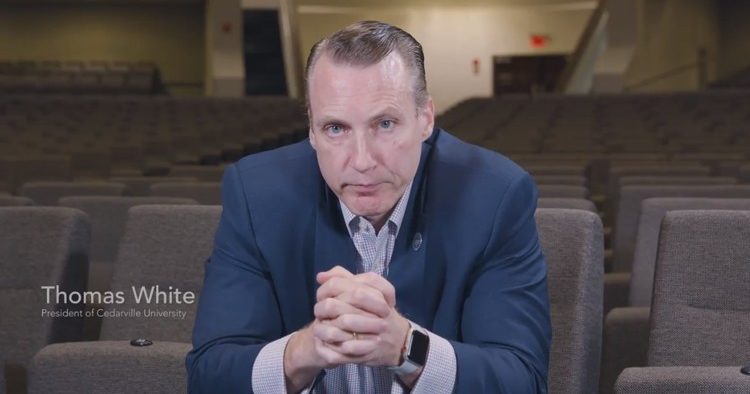 The Cedarville University board of trustees has placed its president Thomas White on administrative leave as it investigates both the hiring and alleged past misconduct of former theology professor Anthony Moore.
Moore, who was terminated by the Cedarville, Ohio university April 23, was fired as a pastor of The Village Church in Fort Worth, Texas in 2017 after he was accused of secretly videotaping a fellow staff member in the shower. 
The staff member, a youth pastor, filed a police report at the time but did not press charges. 
Church officials said Moore was fired due to "grievous and immoral actions against an adult church member," per the Fort Worth Star Telegram. 
White then hired Moore to work for Cedarville, an independent Baptist school, in August 2017 under a five-year "restoration plan," Baptist Press reported. 
When White fired Moore April 23, he said he had learned the accusations against Moore were more extensive than he'd previously known.
But The Village Church officials said in a statement last week they had "thoroughly" informed Cedarville University in 2017 about why Moore was terminated and "reiterated clearly that we did not believe he was fit for ministry of any kind."
Cedarville's board of trustees said in a statement May 1 that separate independent investigations would examine Moore's conduct while he was employed at Cedarville and the process around his hiring, including interactions between White and Moore. 
The statement said the board was "incredibly grieved over this new information and the questions it raises," and that White "has pledged his full support" of the process, per Baptist Press.
In a videotaped statement posted on the university's website April 27, White said he was sorry that he brought Moore to Cedarville and that he recommended that the board hire an outside, independent agency to confirm that nothing inappropriate had occurred on Cedarville's campus. He said no incidents had been reported by students.
"I did not know all the information at first. When we learned the new information, we took the action needed. Dr. Moore violated our agreement," White said.
He said that he and other key university leaders would go through victim prevention awareness and advocacy training this summer.
He also asked the Cedarville "family" to pray for the university and "pray for me as the Lord works on my heart to mold me into the man of God He wants me to be."