Boz Tchividjian on Leaving GRACE, New Opportunity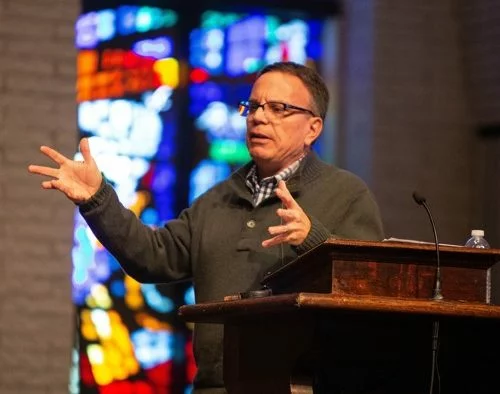 With "mixed feelings," Boz Tchividjian believes it's time for him to follow God's call into private practice while continuing to help sexual abuse survivors. He also looks forward to passing the torch on to new leadership at GRACE, an organization he founded to help churches better respond to sexual abuse issues.  
The grandson of legendary evangelist Billy Graham announced Dec. 14 he will be stepping down as executive director of GRACE – Godly Response to Abuse in the Christian Environment –  and leave his teaching position at Liberty University School of Law.  Tchividjian, who founded GRACE in 2004, made the announcement in an interview with Julie Roys on her podcast The Roys Report. He noted he'd like to remain on the board and expressed his excitement for the organization's future.  
"GRACE has never been about me," Tchividjian said in the interview. "It's always been about serving and advocating for the wounded and educating and equipping Christ's Church. 
"And so, I think it's time that somebody come after me, who has maybe different gifts than me, to take the organization and move it forward."  
With his experience and a law degree, Tchividjian said he plans to represent sexual abuse survivors and has started working at the DeLand, Fla., law firm in Landis, Graham, French.  
"I've already got a number of cases around the country where I'm doing that," he told Roys, "and I feel like I'm putting my time and talents to good use with what I know and the degree that I have and the experience I have as a litigator."   
Tchividjian hopes to help fill a void in a field where he believes there aren't enough lawyers with the needed experience to defend sexual abuse survivors in the church.  
"Many of them (lawyers) should not be doing this," he said in the interview. "They don't understand victimization. They don't understand the church . . . And they end up re-victimizing their own clients. I've encountered so many of these survivors who've been actually re-victimized by the very lawyers who are supposed to be advocating for them." 
Under Tchividjian's leadership at GRACE, the organization has seen growth in helping churches respond to abuse allegations and helping expose sexual abuse issues at faith-based organizations. See related report by WORLD.  
 "We've grown more in the last 18 to 24 months than we've grown in the last 10 years," said Tchividjian, who described today as an "important time in the life of GRACE and I just really believe that God has somebody selected who will step into that position and take it to where [God] wants it to go and that it will never be about a person but it's always going to be about the persons that we serve." 
According to its website, GRACE "exists to equip the Church with a vision for authentic community, where responsibility, accountability, and compassion are second nature and caring for children and adult survivors of abuse are non-negotiable."  
Before founding GRACE, Tchividjian was a prosecutor who created the first "Sexual Crimes" division at the Office of the State Attorney in the 7th Judicial Circuit of Florida, the GRACE website said. As division chief, he prosecuted hundreds of sex abuse cases, and he is recognized as an expert on sexual violence against children and adults. He wrote a weekly column for Religion News Service related to sexual abuse and faith and is a co-author of The Child Safeguarding Policy Guide for Churches and Ministries. 
The GRACE website said, "Boz has spent over twenty years utilizing what he learned as a prosecutor to train and equip prosecutors, investigators, social workers, and medical personnel in handling various aspects of child sexual abuse prosecutions."  
 In the interview Tchividjian noted, "GRACE is not going anywhere."  
 "We are here to stay," he said. "I long for the day where the world doesn't need our organization, but we're a long way from that. And so . . . as long as there is this horror inside of the church, GRACE is going to be there." 
Editor's Note:  To read Warren Smith's in-depth interview with Boz Tchividjian, click here.