Baptist Foundation of Oklahoma Rebranded to WatersEdge with Expanded Services

Name change not an attempt to distance itself from Baptist roots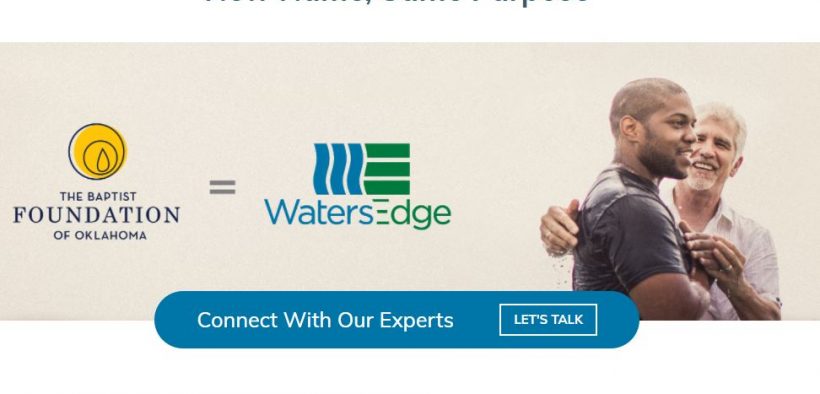 The Baptist Foundation of Oklahoma has rebranded itself as WatersEdge. The name change came at the end of a process that began three years ago and was made official in November 2020.

The Foundation, founded in 1946, currently manages over $550 million in assets.
Mike Schueler, vice president of marketing and communications, said there is nothing negative about the Baptist brand that caused it to change its name. He said the group's website and promotional materials all make clear that WatersEdge is still a Southern Baptist ministry.
"There are other like-minded ministries out there that have need of our services, but having Baptist in the name may cause them to think they can't use us," Schueler added. 
According to the website, the name changed for three primary reasons. First, WatersEdge is no longer just a foundation, but provides additional services "like loans, investments, and accounting that are designed to meet the needs of churches and ministries."
Access to MinistryWatch content is free.  However, we hope you will support our work with your prayers and financial gifts.  To make a donation, click here.
Second, by removing Oklahoma from the name, the group believes it can appeal more broadly and offer its services outside of the state, thus increasing its impact. In an interview with Oklahoma Baptists, Schueler noted that other states do not have a similar foundation that provides these services, and WatersEdge believes it can meet those needs.
"Oklahoma Baptists will always be at the core of who we are and who we serve," Schueler told MinistryWatch, "but there are other states without these services available." 
Schueler says WatersEdge has recently formed partnerships with the Baptist Foundations in Alabama and Arkansas to strengthen and expand the services those foundations can offer to their constituents, but by no means intends to infringe on the function of existing foundations in other states. 
Third, WatersEdge is dividing into two branches: WatersEdge Advisors, to provide financial planning services to individuals and families; and WatersEdge Ministry Services, to provide asset management, accounting, and loan services to churches and other ministries. 
WatersEdge CEO Robert Kellogg noted that the group was able to help the largest Arabic-speaking Baptist church outside of the Middle East, a church in Detroit, by providing it with a loan. According to Kellogg, the church was hitting roadblocks locally because the Muslim community in Detroit did not want a Christian voice ministering there.
"It has been done at no increased risk to the foundation. We have not dumbed down the quality of our loan process. We have just expanded the market area," Kellogg added. 
The group's website anticipates the obvious question about the Foundation's core beliefs. "There are no changes in purpose, policy, or beliefs. WatersEdge will continue serving and strengthening Oklahoma Baptists and like-minded ministries, as well as Baptist churches, ministries, and organizations outside the state."
Inspired by a story found in Luke 5, WatersEdge is named after the life-changing event in Simon Peter's life that happened on the Sea of Galilee. After an encounter with Jesus, Simon left everything to follow Him.
"We loved the idea of Jesus so radically changing the lives of His first disciples. That's the same kind of abandon with which we want to follow Jesus and the kind of ministries we want to assist," Schueler said. 
WatersEdge has reached out to its core constituency in Oklahoma to make them aware of the changes. It put advertisements in The Messenger, the newspaper of Oklahoma Baptists, and gave a presentation at the annual meeting of the Oklahoma Baptists last November.
WatersEdge remains a member of the Evangelical Council for Financial Accountability.