Atlanta Megachurch Files Suit Charging Lenders with Predatory Behavior, Alleges Widespread Fraud Against African-American Churches
Attorneys representing an Atlanta megachurch have filed a lawsuit alleging the bank and investors group that financed its property engaged in predatory behavior, taking millions of dollars from the church as part of a widespread conspiracy that also targeted other African American churches.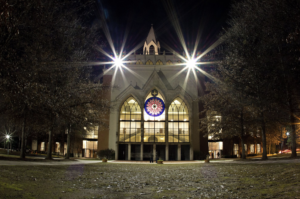 The suit, filed by law firm Bell & Washington on behalf of Greater Travelers Rest Baptist Church/House of Hope Atlanta argues that defendants American Investors Group (AIG) and Herring Bank defrauded the church.
Greater Travelers, a 140-year-old church that currently has more than 10,000 members, was outgrowing its space in 2009 when it sought to buy the campus being vacated by Chapel Hill Harvester Church, a congregation that was engulfed in a scandal involving its pastor and founder, WSB-TV reported.
But the church says it now believes it was tricked into believing that to procure the property, it would have to assume the complex financing arrangement that Chapel Hill Harvester already had in place with Herring Bank and American Investors Group.
Greater Travelers/House of Hope has already paid about $15 million for property that is worth only $9 million, Bell & Washington attorney Quinton Washington said, and the defendants claim the church still owes more than $16 million.
"It is a sad day when houses of worship are continuing to be targeted by predatory corporations seeking profit from communities of faith," he said.
Access to MinistryWatch content is free.  However, we hope you will support our work with your prayers and financial gifts.  To make a donation, click here.
Under the financing arrangement, bonds were supposed to have been sold to investors to raise money for the church, but that never happened, Washington said. The suit also contends that the lenders inflated real estate appraisals, created a difficult-to-understand bond structure and misapplied and misappropriated payments to defraud the church.
Greater Travelers Pastor E. Dewey Smith and his finance team had initiated an investigation into the financing arrangement immediately after learning that former Herring National Bank Vice President Catana Gray, who was accused of accepting a $100,000 bribe related to their loan, had been banned from the banking industry by the Texas Banking Commission in September 2021.
Greater Travelers said one reason it wants the scheme exposed is to prevent other churches from being victimized.
"These types of legal fights too often go unfought, and many churches fall prey to companies seeking to take advantage of them," said attorney David Dreyer.
Main photo: House of Hope Atlanta from 2012 / Facebook